For the second year in a row, low-cost Google Chromebooks from Samsung and Acer were among the best-selling laptops on Amazon this Christmas.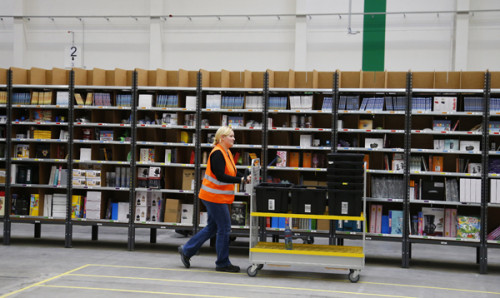 Amazon has released its annual round-up of the Christmas shopping period and while as usual it hasn't revealed how many units it has sold, the list makes for interesting reading about people's online shopping habits in 2013.
Chromebooks from Samsung and Acer occupied first and third spot in the laptop category over the Christmas period with the Windows-powered Asus Transformer Book wedged between the two. This is the second year in a row that Google's Chrome-powered laptops topped the best-selling laptop category, with four Chromebook model in total appearing in the top 10.
While Google may claim the attraction is the Chrome operating system, the real attraction is the low cost, with the Samsung Chromebook costing just £199.
These figures relate to the US specifically with the UK best seller list currently showing that only the Samsung Chromebook features among the best-selling laptops currently.
Prime position
Amazon also announced that it had been a record-breaking Christmas for Amazon Prime, its annual membership program offering unlimited free two-day shipping which costs £49 per year. Amazon said that more than one million people around the globe joined the scheme in just seven days in the lead up to Christmas.
The first Monday of December, or Cyber Monday as it is commonly known, seen as the busiest day for online shopping proved profitable for Amazon with more than 36.8 million items ordered worldwide, which equates to 426 items per second, a new record for the company.
The shift from desktop to mobile was also clear to see on Amazon over Christmas with more than half of all customers shopping using a mobile device to access the site.
Console War
Having been launched just ahead of Christmas, it is no surprise that Sony's PlayStation 4 and Microsoft's Xbox One were among the most popular products, and at the peak of sales for each console, customers bought more than 1,000 units per minute.
2013 was also a bumper year for the company's Kindle with 200,000 exclusive titles added to the catalogue in the last 12 months - though the vast majority of these are likely to be ebooks published through the company's own self-publishing system.
Indeed Amazon announced that 150 Kindle Direct Publishing authors each sold more than 100,000 ebooks in 2013. However it was a much more established name – John Grisham – who was the most gifted book this Christmas with his latest novel Sycamore Row.
Below are a selection of the best-selling items across a range of categories on Amazon this year:
Best Sellers:
Laptops – Samsung Chromebook; ASUS Transformer Book; Acer Chromebook
Kindle Books – "Sycamore Row" by John Grisham; "The Book Thief" by Markus Zusak; "The Goldfinch" by Donna Tartt
Tablets – Kindle Fire HD; Kindle Fire HDX 7"; Kindle Fire HDX 8.9"
TVs – Samsung 32in Smart LED HTDV; Samsung 40in LED HDTV; Samsung 22in Slim LED HDTV
Video Games – Call of Duty: Ghosts (Xbox 360); Just Dance 2014 (Nintendo Wii); Grand Theft Auto V (Xbox 360)
Movies: Despicable Me 2; Star Trek Into Darkness; Man of Steel