Gorilla freed from Thai shopping centre zoo after 30 years in captivity
Authorities order removal of Bua Noi the gorilla and other large animals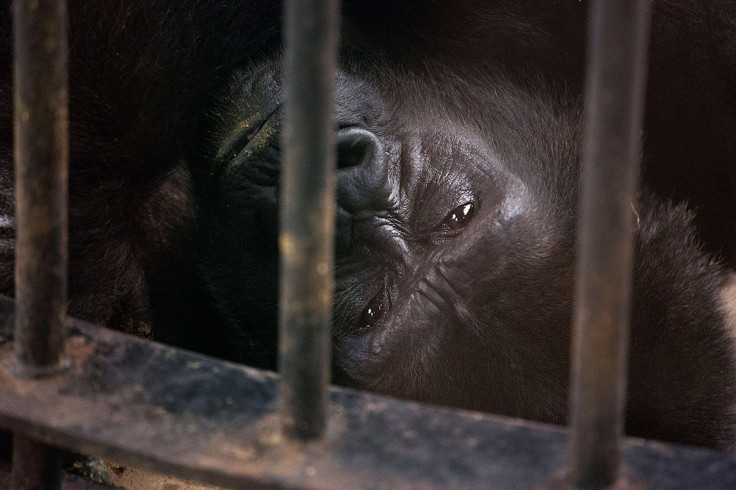 A gorilla kept in solitary confinement for nearly 30 years in "a hell for animals" will finally be released.
Thai authorities have decided that the zoo, which is inside a high-rise shopping centre, breaks several laws. They are to order the zoo's owners to remove the gorilla, Bua Noi, and other large animals reported the Daily Mirror on Saturday (14 March).
Bua Noi – which means Little Lotus – has been held captive in Bangkok's Pata department store since 1987.
The zoo, located on the sixth and seventh floors of the store, houses around 200 animals, including apes, monkeys, leopards, tigers and bears, who are made to beg for food or perform for visitors.
A 2010 video from the Guardianfrom features Bua Noi, and also shows a frustrated tiger pacing around his tiny cage, an an infant orangutan forced to lift a barbell, monkeys forced to wear make-up and fight with knives, and a solitary penguin in his tank – the last remaining one from 12 birds.
A petition to free all the animals in the zoo attracted almost 50,000 signatures since it was started last year. Meanwhile, the animals remain in extremely cramped conditions, with no access to sunlight. They are also subjected to intense heat and exhaust fumes from the busy streets below.
"Basically, it is an animal prison on top of a shopping mall," Edwin Wiek, the director of the Wildlife Friends Foundation Thailand, told the Guardian in 2010. "The space is too small, the animals have very little room, there is very little sunlight, the enclosures are dirty, they smell bad, and people are coming past all day, getting far too close to the animals, which makes the animals extremely stressed.
"In 200 steps you can see 50 different species. Most people know that this is not an acceptable way to keep animals. It is a hell for animals."
The zoo's owner, Kanit Sermsirimongkol, says he opened the zoo 30 years ago because he loves animals.
"There are no rules or regulations to say how much space each animal needs," he told the paper. "It's not about space, it's about the way in which you treat the animals. The space that we provide to the animals is enough for them to freely move around, and to exercise."
The recent decision has been welcomed by animal rights groups, but it is feared Bua Noi cannot be rehabilitated and will not be able to be released into the wild.
The fate of the other animals remains unclear.
© Copyright IBTimes 2023. All rights reserved.