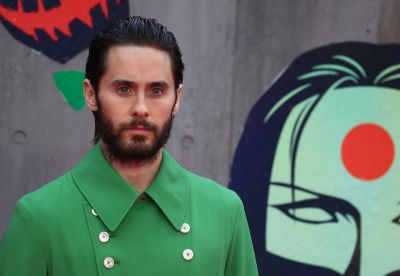 There is a Hugh Hefner biopic on works, and Jared Leto will be donning the silky pyjamas to portray the mogul.
The Playboy founder, who is said to have bedded 2,000 women and famously had several live-in girlfriends, died from natural causes on 27 September at the age of 91.
Speaking to the Hollywood Reporter, director Brett Ratner said he was keen to immortalise the Viagra-popping icon on the big screen.
"Jared is an old friend," says Ratner, 48, who last helmed the Dwayne Johnson-starring Hercules. "When he heard I got the rights to Hef's story, he told me, 'I want to play him. I want to understand him.' And I really believe Jared can do it. He's one of the great actors of today."
Leto was among the stars that attended the premiere of Amazon's docuseries American Playboy: The Hugh Hefner Story at the Playboy Mansion in April. Ratner had hoped to introduce the pair, but Hefner's ailing health meant it wasn't to be. Although they never met, the filmmaker is still confident Leto is the man for the job.
"There's enough footage on Hef out there that Jared will be able to get as much information as he wants," he added.
Playing a womanising entrepreneur is worlds away from his role as The Joker in 2016 sci-fi fantasy Suicide Squad. Leto has yet to watch the film, which also stars Will Smith as Deadshot, Margot Robbie as Harley Quinn and British actress Cara Delevingne as Enchantress.
"I never did. I just think with watching your own films, it can be too self-conscious of a process," he recently told Cinema Blend. "You either like what you did and you're prone to repeat it, or you didn't like it, and it can make you self-conscious. I'm not sure how much win there is for me. But I read the scripts, so I know what's going to happen."