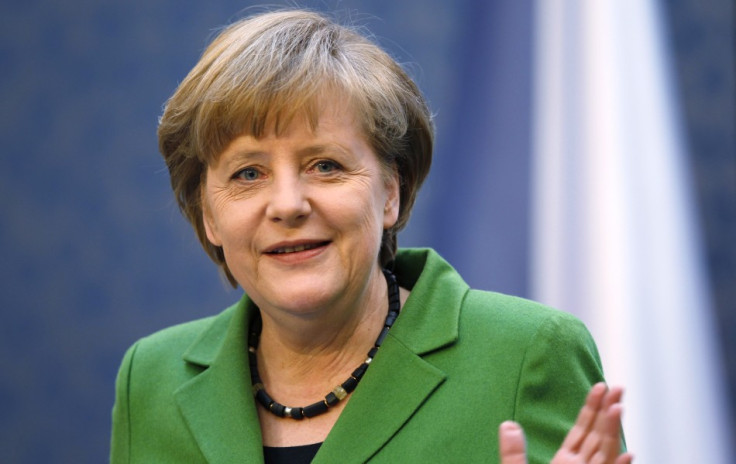 Brian Parkin writing for Bloomberg on 24 May 2012, highlighted how Germany's sharp fall in jobless figures over the past few years is not only saving the nation a fortune but enhancing Chancellor Angela Merkel's reputation as a very safe pair of hands. He could have added "and defender of Germany's interests in an increasingly hostile European Union."
Mr Parkin's headline comparison years are 2005 and 2011. Back in April 2005, Germany's unemployment level was 4.89 million and cost the state €88 billion. Despite a slight rise in April 2012, the total had fallen dramatically to 2.87 million, whilst the cost of the country's unemployment bill for 2011 had reduced to €56 billion.
As he writes in his report:
"Unemployment in Europe's biggest economy has declined every month but three since July 2009, adding ammunition to Merkel's position that her fiscal and economic policies are the best means to weather the Euro region's debt crisis."
If only to aid cost-benefit analysis, he adds a snippet that might be of interest to countries like the UK which collect a "National Insurance" contribution that simply goes into the government's revenue pot:
"Reduced unemployment brings two-way savings as workers' unemployment insurance payments fill the Nuremberg-based agency's coffers at the same time as its outlays decline."
Mrs Merkel of late needs all the ammunition that she can lay her hands on for though her personal approval ratings are still way ahead that of her Party's, the Christian Democratic Union (CDU), her former unassailable position is slipping a bit. Not least and of most recent consequence is her much criticized firing of Environment Minister, Norbert Röttgen her one-time political protégé, on 16 May and the very brisk manner in which the dismissal was executed.
Mr Röttgen, it is believed, was not pursuing the Chancellor's "energy revolution" policy which seeks a massive switch to renewables by 2050 in Germany's energy mix, with sufficient vigour. No doubt there was also increased tension over a poor showing in elections the previous weekend for the CDU in Germany's most populous state, North-Rhine Westphalia and the generally lacklustre performance of Coalition partners, the Free Democrats, doesn't help either.
Despite such recent domestic issues taking some of the shine off "Mutti's" (Mummy's) acclaim, there is no-one yet with the political clout, in any party, to match her and there can be little doubt that her handling of the Euro crisis and how much it will hurt her country and people, will determine the political fate of Party and Chancellor come the General Election in September 2013.
In December last year the Forsa Polling Institute gave her a personal approval rating of 62 per cent. Following bitter media criticism abroad of Frau Merkel in particular and Germany and the Germans in general, liking them to the Nazis - how original - especially noticeable in Greece, the "Iron
Chancellor's" ratings rose to 64 per cent by the beginning of March 2012. Professor Gerth Langguth of Bonn University told the Boston Globe on 01 March 2012:
"Attacks from abroad have led to (a) feeling of solidarity in Germany. She (Merkel) is regarded as representing German interests."
That same Forsa poll gave the Christian Democrats just 38 per cent support.
At Summits in Camp David and Chicago, USA and this week in Brussels, it would be very easy to draw the conclusion that Germany was totally isolated in its position of taking a rigorous stance over deficit reduction and fiscal discipline in order to solve the crisis within the Eurozone, the howls from the Latin Bloc in particular having been most voluble. Germany does have strong backing though for its tough stance from Austria, The Netherlands, Finland and the Baltic States.
Britain's Prime Minister, David Cameron appeared to be giving Chancellor Merkel his support this past week when he stated quite bluntly that Greece had to be in no doubt that their Election in June should be one to decide whether Greece should stay in the Euro - and abide by the strict fiscal conditions imposed for its bailout funds - or, by voting for party/parties which reject the austerity proposals, leave the Eurozone and revert to a new Drachma.
Such support, though no doubt welcomed by Germany, will not erase the memory of Britain's role in, famously, using its veto in December 2011 over German proposals for a fiscal pact that would, amongst other matters, limit budget deficits to 0.5 per cent of a country's Gross Domestic Product (GDP); nor Britain's indication that it favours the issue of Euro bonds to solve the problem.
There is little doubt though that Mrs Merkel's biggest recent loss has been the defeat of her main ally, Nicolas Sarkozy, in tackling the European Union's debt crisis with an austerity package, and his replacement as President of France by François Hollande. President Hollande fought his election campaign promising big increases in Public Sector employment, reversal of an age increase for State Pension eligibility and a "growth instead of austerity" promise. This latter going directly against a programme already agreed upon and already in operation.
President Hollande's preferred immediate solution to the fiscal crisis is that Eurobonds should be jointly raised to spread national debt burdens across the whole Eurozone. Such action would mean, of course, that Germany and its taxpayers would take on the large and current national debts of the PIIGS - - Portugal, Italy, Ireland, Greece and Spain - all presently under high and unsustainable interest rate burdens from the world's money markets.
In Going ahead with such a proposal, relief might well be felt outside the Eurozone, not just in the most "errant" nations. But would the much needed fiscal and structural reforms required in all EU countries to a lesser or greater degree ever be achieved in order to take on the competitive challenges matching the efficiency and productivity levels reached outside Europe? Or is that fiscal discipline which has been accomplished to date likely to continue? It is not only Germany which will question the resolve of its partners. The great fudge of the whole European concept long before a common currency came into being was that of it operating as a union of individuals.
Hu Shuli writing in the South China Morning Post on 10 November 2011 accurately sums up the situation from an outside perspective:
"Although Europe has taken notable strides towards integration, it remains divided by serious political differences. The adoption of a single currency might give the impression there was a sole political authority capable of resolving conflicts of interests among members, but that of course is not the case. The Greek debt impasse is but one example of governments taking action according to their own political needs, with little regard for the greater good, and there is no authority to rein in such irresponsible behaviour."