Key Features:
Developer - Rockstar North
Release date - Out now (iOS), TBA (Android)
Platform - iOS
Device tested - iPhone 4, iPad
Price - £2.99
Grand Theft Auto: Vice City Anniversary Edition
Ten years on, and Grand Theft Auto: Vice City is still the coolest computer game ever made. Available now on iOS, Rockstar's glittery crime sim from 2002 is an absolute blast, choc-full of gorgeous eighties scenery and neat pop culture references.
It's that soundtrack - that ruddy soundtrack - that does it. Like a double-disc compendium of eighties number ones, Vice City's nine radio stations play only the very best of hip-hop, new wave and synthpop. There's an added feature for this new anniversary version that lets you pipe in tracks from your iTunes music library, but with artists like Blondie, Gary Numan and Herbie Hancock already built into Vice City, you needn't bother - this is the best sounding game of the past decade.
Dreamy
And it looks fantastic, even better on the iPad's retina display than it did on the PS2. A complete makeover from the grimy industrial park that was 2001's GTA III, Vice City is a colourful, neon-lit coastal paradise, glistening in the Miami sun. Its geography is a montage of dreamy eighties locations - Scarface's mansion, Miami Vice's sea - and the whole game pops with colour. It's a visual palette since unmatched in other Grand Theft Auto games, that remains instantly appealing even after ten years.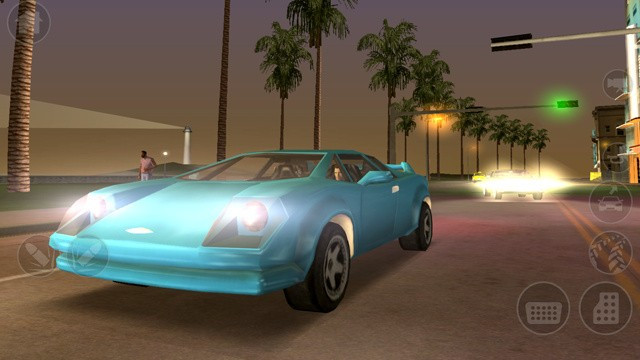 The plot is guff, though. A shameless pastiche of Brian de Palma's Scarface, you play a lowly gangster (voiced by Ray Liotta) killing his way up the criminal food chain to become Vice City's top drug peddler. It's very lazy and even a few excellent star turns from Dennis Hopper, Danny Dyer and Burt Reynolds can't make it better.
Controls
On mobiles, the controls suffer a little bit, too. Vice City improved on GTA III with a more accurate, more discerning lock-on targeting system, but that's binned on the iPhone in favour of fiddly auto-aim that never does what you want.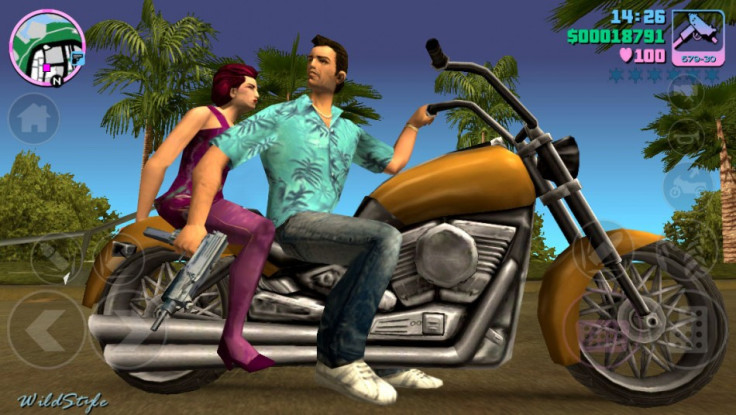 For the sake of less on-screen furniture, and a streamlined control scheme, you lock on and shoot whichever person is nearest to you. But that person isn't always the one you're after; if you're in a gunfight with the cops and some divvy pedestrian jogs by, it's him you end up aiming at while the police fill you with bullets. It's a niggle rather than a genuine problem, but regardless, it's bothersome.
But Vice City is one of a kind; even a decade later, no Grand Theft Auto game looks or plays anything like it. It took the framework that GTA III had invented and polished it to a glistening, Aviator sheen, hovering up stylish violence and 80's cultural references like lines of coke in a nightclub toilet.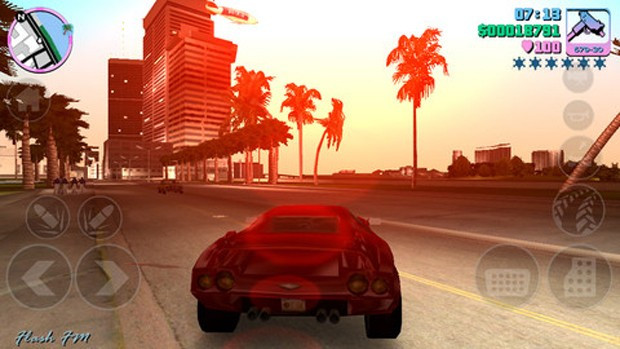 We've had the enormity of San Andreas since then, and the uproarious daffiness of Gay Tony, but no GTA - no sandbox game at all - has come close to the sensory overload that is Vice City. The controls on mobiles are hard to calibrate, but Vice City is a defining moment in computer game history. If you've never played it before, go and download right now; if you're one of the millions of people who still remember cruising Ocean Drive to the tune of 'Kids in America', Vice City Anniversary Edition is the perfect excuse to do it all again.
Score: 9/10