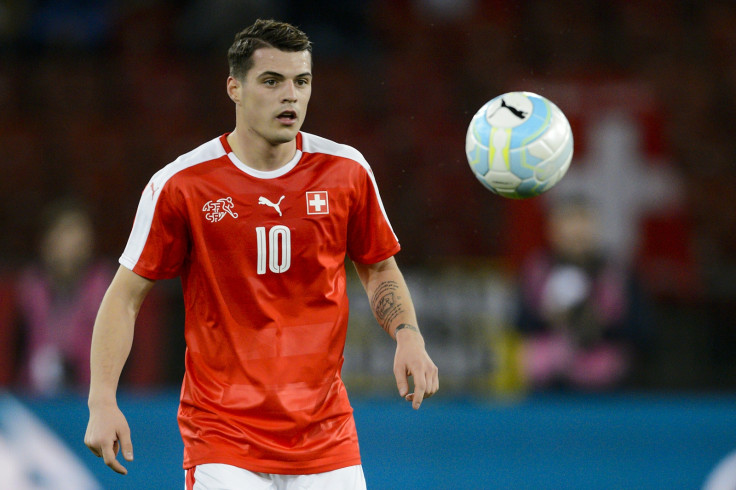 Former Arsenal defender Johan Djourou has backed Gunners' new signing Granit Xhaka to be a success in England and has likened him to Italy's legendary midfielder Andrea Pirlo. The 23-year-old completed his move to the Emirates from Borussia Monchengladbach on 25 May and was the Gunners' first arrival of this summer.
The Switzerland international's club form has seen him make it to the national squad for the European championship. Djourou, who was at the north London club for a decade from 2004, will play alongside Xhaka with the Swiss national team in the Euro 2016 is aware of Xhaka's capabilities.
Ottmar Hitzfeld gave Xhaka a debut with Switzerland during the former's six-year tenure as the Swiss team's boss. The former Bayern Munich manager compared the Gunners' new addition to Manchester United midfielder Bastian Schweinsteiger. The player expressed his delight after being compared to the World Cup winner with Germany.
Djourou believes Xhaka's vision will help Arsenal and his style of play will suit the Premier League more than the Bundesliga.
"It is hard to give a perfect description but I would say he has a bit of Pirlo about him," Djourou told the Mirror.
"Granit is a great ball player. The guy has a magical left foot. He can ping the ball all over the place. He is a strong tackler - he is very hard going into tackles - and overall he is a very, very, very good player.
"He can see a pass. He can tackle, he can assist. I would say, if I am being honest, there is a little bit of a Pirlo about him, just in terms of the precision that he plays the ball with. Granit can play those types of ball.
"He can come and get the ball and ping it 40 yards onto your feet. He is that kind of player, but with more physicality to his game.
"I think he will cope well because he has the physicality aspect to his game already. Sometimes when people come to the Premier League they are surprised at how physical it actually is. But he already has that.
"He is a player who gets a lot of yellow cards because in Germany it is maybe a bit too hard for his opponents. But English football will be perfect for him."