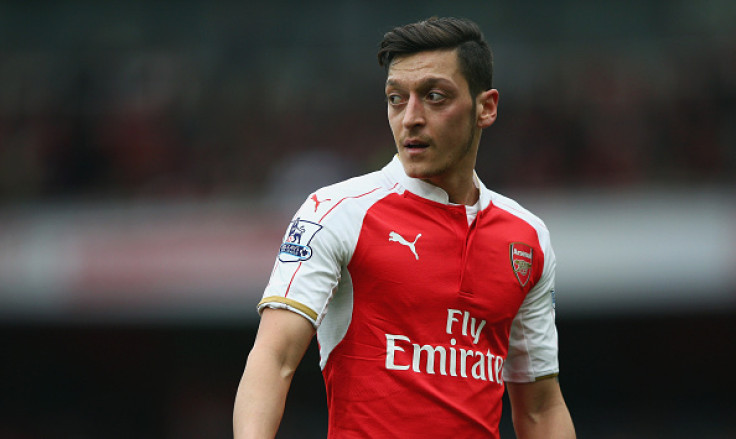 Petr Cech has heaped praise on Arsenal teammate Mesut Ozil and revealed that despite having some notions about his qualities, training day in and out with the German has opened a completely new perspective for the Czech Republic international. The 27-year-old has had a stellar campaign with the north London club, picking up 20 assists and eight goals in all competitions and has been crowned the Arsenal Player of the Season.
From a goalkeeping aspect, Cech revealed that it is very difficult to play against the likes of Ozil as it is very difficult to anticipate his next move. The German, who won the 2014 World Cup with Germany, has the ability to create something out of the most unlikely of scenarios, which makes him a very dangerous opponent.
"He's been brilliant all season," Cech told Arsenal's Official website. "Not only is he providing all of these assists, but in a game he is very important and very useful and he has improved in terms of goals scored. You could see that his overall game has been brilliant all year, so he definitely deserves to get the Player of the Season award. He's raised the bar for next season so good luck to him for being able to keep it that high.
"He has great vision and, whatever he sees, he sees it much better than anyone else. He can execute the pass as well or use that space, with his movement or his pass. His quality with the ball, his passing and vision is extraordinary," he said.
"It's very tricky for the goalkeeper because you know anything can happen. He sometimes sees things and you think, 'There's no way he can put the ball there because it's too complicated', but he always finds the way. Even with his finishing, he has the calmness in front of goal, picks his spot very well and he can put it wherever he wants," the goalkeeper added.
Cech was all praise about his ability to run at defences as well, something creative players have been accused of avoiding. Ozil is consistently among the most hardworking players on the pitch and is always pressing or putting the opposition under pressure.
"When you look at these types of players everyone says, 'They're technically gifted, can pass and have nice vision', but when it comes to running people question it," Cech stressed.
"With Mesut you can see that he's not [afraid of] running, pressing or the physical presence. He's someone who works hard every day to be on top of his game and that's why he's at the top of his game, because he works for it," he explained.