Disturbing images of botched circumcision in South Africa on a website has been criticised by defenders of the cultural tradition.
The site, created by Dutch doctor Dingeman Rijken, was set up after a large number of men and boys died last year, when the initiation ceremony into manhood was incorrectly carried out.
However, critics have called for Ulwaluko.co.za to be shut down, claiming it betrays their culture. They have argued the issue should be addressed differently.
The disturbing images show the disfigured genitals of men and boys which Dr Rijken encountered while working in the Eastern Cape province. A warning notice now appears when a reader visits the website.
Every year, thousands of youths leave their parents to spend weeks in the care of traditional leaders at an initiation school where they are circumcised, a rite of passage commonly referred to as "Ukwaluka" or "going to the mountain".
Over 50 men and boys died from infection, exhaustion and dehydration by June 2013 during the ceremonies, which last for weeks. According to official figures, around 300 were taken to hospital.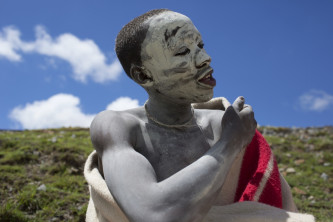 Patekile Holomisa, former leader of the Congress of Traditional Leaders of South Africa, demanded the site be taken down.
He said: "We condemn the exposure of this ritual to people who do not (follow) it. Women should not see what happens at initiations."
Similarly, Nkululeko Nxesi, from the local Community Development Foundation of South Africa, said Rijken should respect the "cultural principles and processes of this nation".
He added: "That website must be shut down with immediate effect."
Speaking to Daily Dispatch newspaper, Rijken defended his actions, saying the ritual killing of young men needs to be addressed. He argued: "If you see so many boys dying, at some point you have to talk about it. Why do we sustain a ritual that slaughters boys in their prime or... scars many others for life?"
While South Africa's Film and Publications Board has restricted the website for children under the age of 13 due to the graphic images, it told the APF the site was "a bona fide scientific publication with great educative value".
"The website highlights the malice that bedevils this rich cultural practice. It does not condemn this rich cultural practice, but makes a clear plea for it to be regulated so that the deaths do not occur."
The decision will be appealed by the cultural groups and critics.