Bake Off judge Prue Leith has accidentally tweeted the winner of The Great British Bake Off 2017 - 12 hours before the finale is due to air.
The 77-year-old restaurateur and television personality has since deleted the tweet, congratulating a contestant upon taking the crown.
Leith tweeted: "No one told me judging a #gbbo final would be so emotional. I wanted them all to win. Bravo [name of contestant]."
Fans went berserk over the slip-up, with one person responding: "IS THIS FOR REAL OH GOD" as another put: "As someone who works in social media, having heart palpitations on behalf of Prue Leith".
Leith subsequently attempted to cover her tracks after deleting the revealing tweet and posting another stating: "It's the #GBBO final! Who will win? Thrilled to say Paul, Noel Sandi & I will all be back! Do you want to join us?"
One miffed follower replied with: "Well we know because you told us. Well done".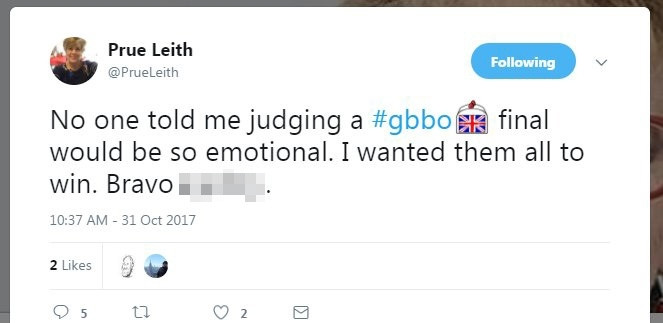 The Bake Off finale airs at 8pm on Channel 4 tonight.