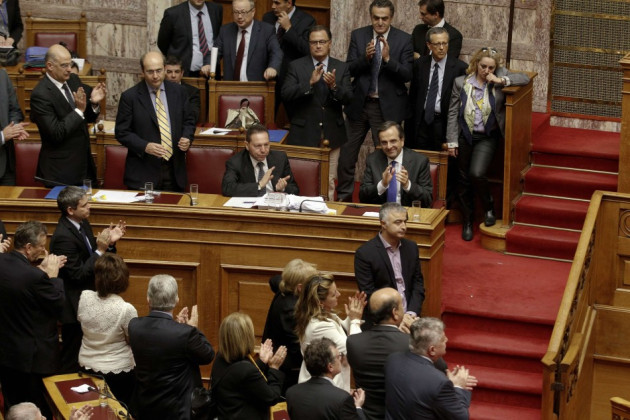 Greece's parliament has passed a fresh set of austerity measures that it hopes will convince international lenders to unlock bailout funds, but the package of reforms passed by only a tiny margin.
The package of tax hikes and pension cuts, worth €13.5bn (£10.5bn) passed by 153 votes to 147, raising fresh concerns about the stability of the country.
After the bill was approved, the New Democracy and PASOK parties expelled seven of their deputies for not supporting the measures.
The widely unpopular belt-tightening measures are expected to release much needed international aid for the country, although this is not guaranteed.
The package, which is the fourth in three years, is specifically aimed at lowering Greece's budget deficit, reducing its heavy debt burden and helping to make the economy more competitive.
The MPs will now have to pass an amended budget that accommodates the austerity measures, before eurozone ministers meet to consider fresh loans for the country.
Presenting the austerity plan to parliament, Greek Prime Minister Antonis Samaras admitted that some of the strict measures were unfair, but added that Greece was under an obligation to adhere to the terms of its lenders.
"A lot of what we're voting on today are measures we should have taken a long time ago," he said, mentioning that it would be "the last" such package. In the future the "adjustments," will be achieved by clamping down on tax evasion and public sector waste.
However, commentators have pointed out that Samaras is the third Greek third prime minister to promise a "last" round of cuts since the country sought international aid in 2010.
The severe cutbacks, which have resulted in a contraction of the country's economy over the last two years, are posing a threat to Greece's political and social stability, raising concerns on the government's ability to continue reforms for economic revival.
Earlier, a 48-hour walkout by Greece's public and private sector workers led to clashes in Athens as protesters attempted to break into parliament. They were met with teargas, stun grenades and water cannon by riot police.