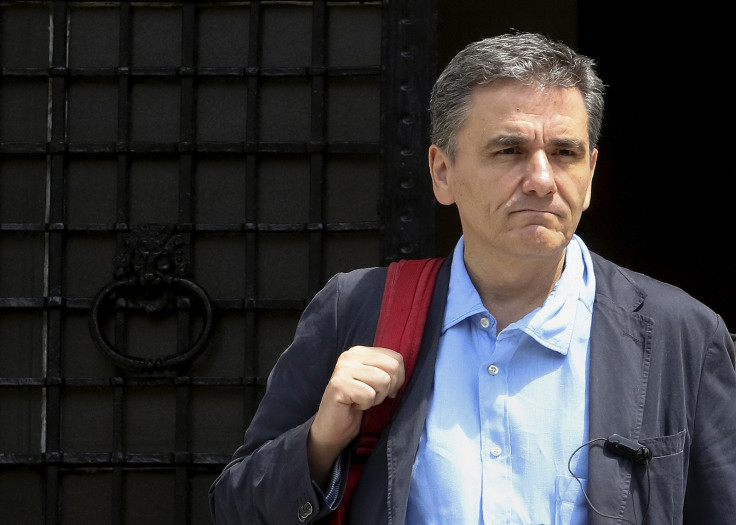 Greece and its international lenders are in marathon overnight talks to wrap up an €86bn (£61bn, 94.42bn) bailout as Athens fights to clinch a deal by Tuesday (11 August) in time to have funds ready for a European Central Bank debt repayment.
Athens needs to have a deal agreed and enough time for parliamentary and other approvals to be obtained to ensure it can make payment on a €3.2bn debt payment due to the ECB on 20 August.
"We are going into the final round of talks, looking at the Memorandum of Understanding from beginning to end," a senior Greek government official said during a brief break in talks in Athens.
Reuters said the latest round of talks started Monday afternoon.
Both parties so far have agreed to set a budget surplus target before interest payments of zero percent this year, and expect the Greek economy to shrink between 2.1% and 2.3%, a Greek official told the news agency.
They have also agreed to a baseline scenario of a primary budget surplus of 0.5% of gross domestic product in 2016, and a primary surplus of 1.0% of GDP in 2017. It is also projecting a GDP contraction of 0.5% in 2016 before seeing a growth of 2.3% in 2017.
Greek Finance Minister Euclid Tsakalotos told reporters that talks were going "quite well" and was optimistic that an agreement will be reached soon after lengthy negotiations on Sunday and Monday.
"I don't know if it will be (Tuesday) morning, but soon means soon," Tsakalotos said.
According to Reuters, a sticking point remains the banking sector's non-performing loans. While Greece wants to set up up a bank to handle these types of loans, the international creditors prefer the loans to be bundled and sold off to distressed asset funds.
In addition, both sides are yet to agree on the setting up of a sovereign wealth fund aimed at raising €50bn from privatisations, officials said.
The deregulation of Greece's natural gas market has been agreed by both parties, Reuters said.
A Eurozone official had said on Monday that Greek banks could get an initial capital injection of as much as €10bn as soon as a bailout deal is wrapped up, even before the ECB completes a stress test on the banks.
The stress test could take up to October to be completed and the official said that it has been recognised that capital is urgently needed by the Greek banks to normalise their operations.
Reuters said Greek officials have said that they expect the bailout accord to be approved by its parliament on Wednesday or Thursday and then be vetted by eurozone finance ministers on Friday.