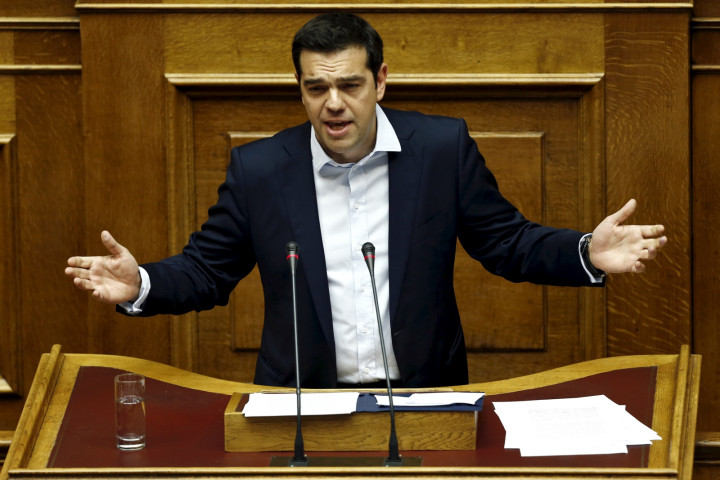 Greece Prime Minister Alexis Tsipras has survived a rebellion by a far-left faction in the governing Syriza party, which pushed to end bailout negotiations with creditors and stage an exit from the eurozone.
Syriza's 200-strong central committee backed Tsipras's proposal to hold an extraordinary party congress in September to discuss strategy and rejected demands from dissenters for an immediate emergency meeting, the Reuters agency reported.
It came hours before negotiators from the European Commission, the European Central Bank and the International Monetary Fund (IMF) were due to arrive in Athens to begin formal bailout talks with Greek Finance Minister Euclid Tsakalotos.
Athens struck a last-ditch bailout deal worth €86bn (£60bn, $94bn) with international creditors to keep the debt-stricken country afloat earlier this month, but some hardliners within Syriza view this as a betrayal of the party's anti-austerity principles and want a return of the old currency, the drachma.
'No remorse'
"We are telling the Greek people, loud and clear and with no remorse, that this is the deal we managed to bring them and if there is someone who thinks that they could have achieved a better deal, let them come out and say that," Tsipras was quoted as saying at the session by Reuters.
Tsipras has been forced to rely on pro-EU opposition MPs to push through legislation in parliament, having effectively lost his governing majority when 32 Syriza lawmakers voted against fresh austerity measures on 16 July.
Meanwhile, the IMF has said it will refuse to participate in the bailout until international creditors agree to an "explicit and concrete agreement" on debt relief for Greece.
The remark implies the fund is highly unlikely to lend money to Athens, at least during the initial stages of the bailout.
The Guardian newspaper quoted an IMF official in Washington as saying that Athens will also have to implement tough reforms to receive the debt relief.
"There is a need for difficult decisions on both sides. One should not be under the illusion that just one side can fix the problem," the official was quoted as saying.
The IMF has in the past pressed creditors to offer substantial debt relief for Greece, saying it is the only way to resolve the country's fiscal crisis.
Greece's debt has ballooned to 175% of GDP, from 130% when it received its first bailout in 2010.