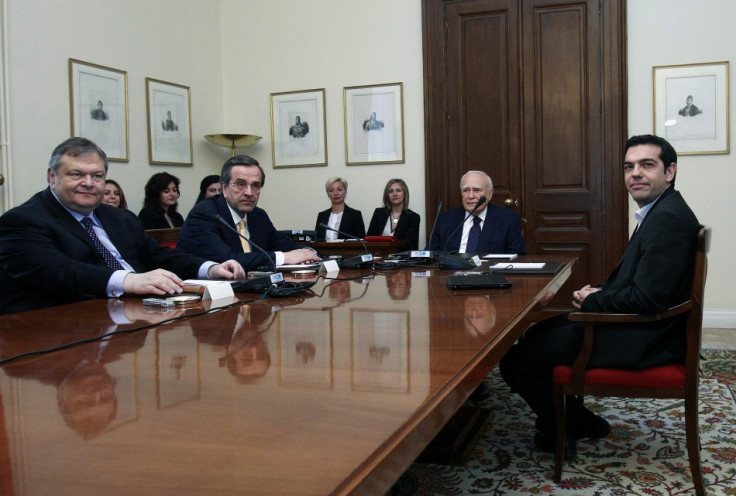 Greek President Karolos Papoulias' attempt to forge a coalition government has not made much headway given the rigid positions the major parties are adopting.
A last-ditch attempt will possibly see the leaders of the parties struggling to come to a consensus.
The leaders of all the three parties, the conservative New Democracy, the leftist Syriza and the socialist Pasok, are expected to try to break the political logjam.
Reuters reported a senior office in the president's office as saying: "There will be a meeting with the leaders of the three big parties and [Democratic Left leader Fotis] Kouvelis."
After a meeting over the weekend, the radical leftist leader Alexis Tsipras refused to attend further talks since the issue of bailout continues to be a conflict of interest among the parties.
"After today's meeting it is clear that they are not asking for an agreement from Syriza. They are asking for complicity to a crime and we are not going to be their accomplices. In the name of democracy and popular sovereignty, in the name of patriotic responsibility, we cannot partake in this complicity," the BBC reported the leftist leader as saying.
The other major parties are criticising Syriza for not cooperating to form a stable government.
"Syriza doesn't accept the formation of a viable government, or even to agree to support a government which would undertake to renegotiate the terms of the loan agreement," said the New Democracy leader Antonis Samaras, according to the Guardian.
European leaders are keeping a keen eye on the developments in Greece as the worsening situation could even possibly lead to the expulsion of Greece from the single currency bloc.
Any deepening of the crisis or refusal to repay debts could severely hurt banks across Europe.