Wildfires burning through woodland on hills around Athens are sending clouds of smoke billowing over the Greek capital. More than 18 fire engines and three aircraft have been battling the flames, which have caused many residents to flee their homes.
The large brush fire is burning across Ymittos hill on the capital's outskirts. Strong winds are helping the flames devour parts of the mountainside popular with day-trippers.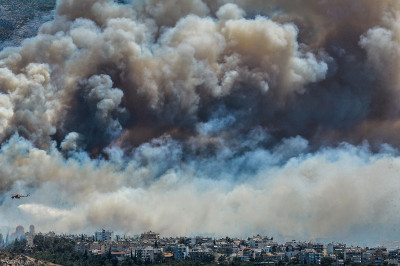 Prime Minister Alexis Tsipras called for calm and said he had asked the air force and armed forces for help, and had also appealed to other European countries for assistance with extra fire-fighting aircraft.
At least four other wildfires broke out across the country, including one in the southern Peloponnese region, where flames forced the evacuation of at least three villages and two summer camps.
Strong winds fanned the forest fire in the Lakonia area, on the tip of the Peloponnese. A coast guard vessel and other boats were attempting to evacuate scores of people trapped on a beach by the fire, but those rescue efforts were being hampered by gale-force winds and rough seas.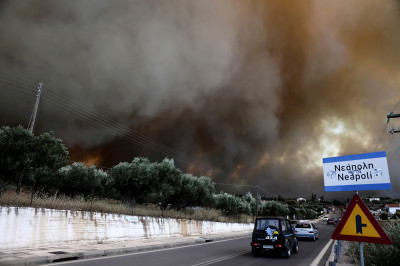 Forest and brush fires are common during Greece's hot, dry summers. In 2007, massive forest fires ravaged southern Greece, devastating dozens of villages and killing about 60 people.