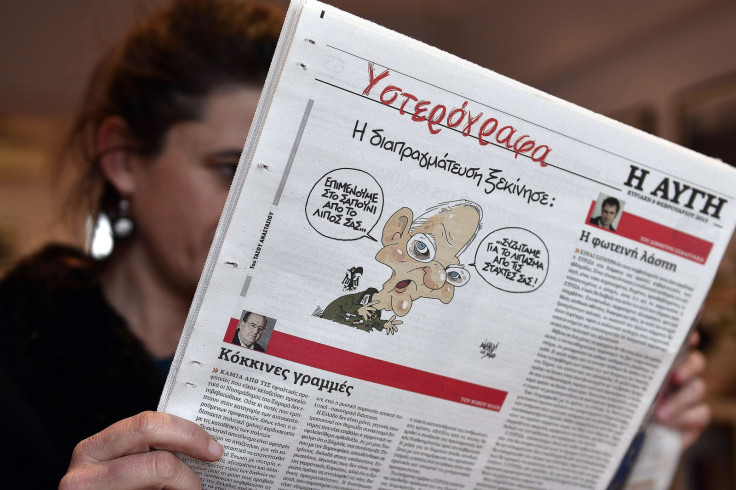 The already strained relations between Berlin and Athens turned even sourer after a newspaper affiliated to Greece's newly elected leftist government published a cartoon depicting the German finance minister as a Nazi.
The caricature carried by Avgi (The Dawn) featured Wolfgang Schaeuble in a Third Reich uniform, making remarks evoking the Holocaust.
"We insist on the soap from your fat ... we are willing to discuss fertiliser from your ashes,"
Schaeuble says in the cartoon under a caption reading: "Negotiations have begun".
The drawing referred to talks between European Union leaders and finance ministers and the administration of Prime Minister Alexis Tsipras over a possible renegotiation of Greece's bailout terms.
The cartoon met an angry reception in Berlin, with Schaeuble's office describing it as "vile".
"On a very personal basis I say: this caricature is vile and the artist of this caricature should be ashamed," said finance ministry spokesman Martin Jaeger, AFP reported.
Tsipras, the leader of Syriza, a radical left coalition including Marxists, Trotskyists and Greens, was voted to power on a pledge to write off part of the country's debt and lift the country from the abysses of recession, unemployment and poverty.
The anti-establishment party has campaigned heavily against austerity measures imposed by an EU-IMF plan as part of a loan package to rescue Greece from the brink of bankruptcy, portraying them as part of a German attempt to economically subjugate the country.
Syriza members have often used a strong anti-German rhetoric, referencing the Nazi occupation during War World Two.
Tsipras's first act as PM was to pay a visit to a WWII memorial, which was followed a couple of weeks later by a demand that Germany pays allegedly outstanding war reparations.