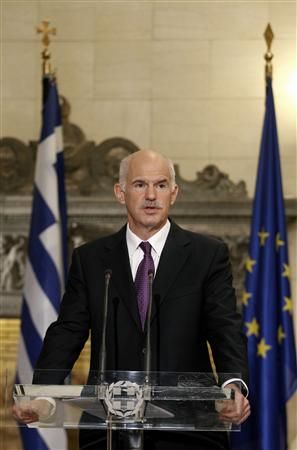 Greece has become the lowest rated country in the world, falling behind nations such as Jamaica and Grenada after Standard and Poor's cut the country's rating by three notches. Greece now has a credit rating of CCC, down from its rating of B and it is expected to be reduced further. There is now growing frustration in Europe over the efforts being made by the Greek government with a default the most likely outcome.
On Monday, Greece's ten year bond yields jumped to more than seventeen per cent for the second time this year. Adding further concern for the European Central Bank will be the fact that Ireland has had highs of ten per cent and Portugal eleven in the past year. The German government and the European Central Bank are now in dispute as to what to what should be the next step for the heavily dependent nation. For a second bailout deal to happen, the two must agree to restructure Greece's debt as part of a new bailout package with private creditors heavily involved. The government in Berlin favours a far softer measure as this will make default all the more likely, raising severe concerns in Berlin.
The situation in Greece will raise further concerns across Europe as the country's government is under severe attack from opposition parties and the public. However, in a defiant statement, the Greek government has reacted angrily to the downgrade accusing Standard and Poor's of targeting the nation. It says the company has failed to take into account the measures the government has taken to refinance its debt. In a statement, the Greek Ministry of Finance said, "The decision ignores the intense consultations taking place currently between the same institutions and the IMF aimed at designing a viable solution that will cover the financing needs of Greece in the coming years."
The problems are mounting for the socialist government. Its austerity measures have been met with anger across the nation as they have been far deeper and far wider severe than what was expected. Opposition MP's have moved to block any further spending cuts or tax hikes in a move that could spell for the end for the leftist leaning government. Furthermore, a general strike is being organised for Wednesday as further EU funds will in turn lead to further cuts.
Greece's mounting debt crisis has alerted Republican senators to urge Barack Obama to block any deals between Greece and the International Monetary Fund. Senators John Cornyn and David Vitter have written an open letter to President Obama urging him to "actively and forcefully" oppose any IMF bailout loans to rescue debt-heavy Greece. The senators are looking to prevent US taxpayers' money from again being used by the IMF to bail out foreign nations that have made 'irresponsible spending decisions.' A second EU bailout looks the only real course for Greece, with a default expected at least once by 2013.