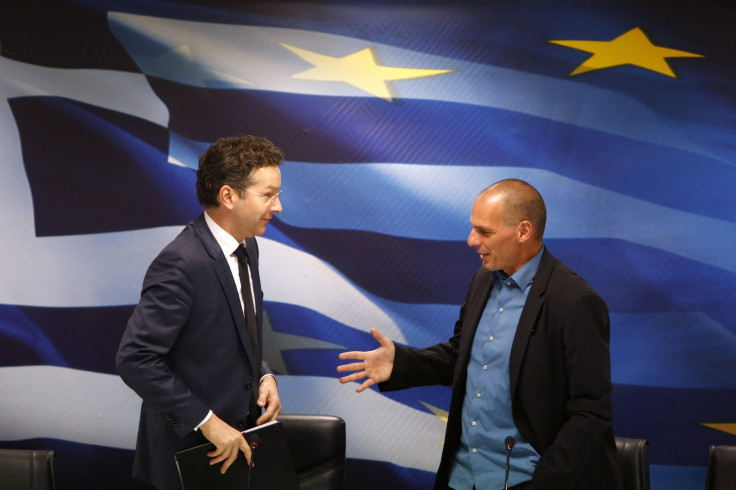 The newly-elected leftist government in Greece has vowed not to negotiate its bailout terms with the "troika" officials from the EU and the IMF.
Greek Finance Minister Yanis Varoufakis in his talks with Jeroen Dijsselbloem, the eurozone's finance chief tasked with overseeing the bailout operation, insisted that he would talk with eurozone leaders directly to nullify some of Greece's debts.
"This government was elected on the basis of analytically questioning the very logic of the programme now being applied. Our first action as a government will not be ... a request to extend [the bailout]," Varoufakis told reporters during a press conference at which Dijsselbloem was also present.
"Our first action as a government will not be to reject the rationale of questioning this programme through a request to extend it. We respect institutions but we don't plan to cooperate with that committee," Varoufakis said.
Though both the officials described the discussions as "constructive", the hour-long meeting failed to cover any of the gaps while local media pointed at the uncomfortable body-language of the two men and their awkward handshake at the end of the news conference.
Varoufakis rejected the final tranche of Greece's international bailout worth €7.2bn, as the deal, which started in 2010, ends in February 2015.
Dijsselbloem, the Dutch finance minister, said: "It is of the utmost importance that Greece remains on a path of recovery. This requires commitments to reform process and to fiscal sustainability. Taking unilateral steps or ignoring previous arrangements is not the way forward."
The leftist government led by Prime Minister Alexis Tsipras came to power riding on the wave of the anti-austerity mood in the country. Greece's latest defiance comes ahead of Tsipras's trip to London, Paris and Rome next week in order to renegotiate the bailout terms.
Meanwhile, the EU economic and financial affairs commissioner, Pierre Moscovici, told BBC Hardtalk that there will be no "Grexit" from the eurozone.
He said: "We believe that the place of Greece is in the eurozone, the euro needs Greece and that Greece needs and wants to be in the eurozone. We feel that it's very important for the stability of the eurozone and for the credibility of the euro that there is no 'Grexit'. This is why we will do everything that is needed to avoid it."