Cash-strapped Greece is considering selling stakes in its two largest ports as a concession to reach an agreement with its European and International Monetary Fund (IMF) lenders and unlock bailout funds.
Prime Minister Alexis Tsipras's radical Syriza government had sought to cancel significant terms of Athens' bailout programme, calling it a "crime" to sell off strategic national assets.
But hard-pressed for cash and with its eurozone partners and the demanding policy concessions before they agree to release remaining bailout aid, the government has softened its stance.
"The negotiating team wants a deal with lenders and we are willing to sell Piraeus and Thessaloniki ports, 51% stakes," a government official told reporters.
"This has not been decided but in order to reach a deal we may do it."
Earlier, Economy Minister George Stathakis said the government had no plans to sell a majority 67% stake in Piraeus Port, but would seek investors for a joint venture with Greece retaining a substantial stake.
Cut off from markets and fast running out of cash to pay salaries, service loans and redeem maturing debt, Athens has only days left to reach a cash-for-reforms deal.
Compromises the government is willing to consider in its bid for a deal include value-added tax rates and some pension reforms.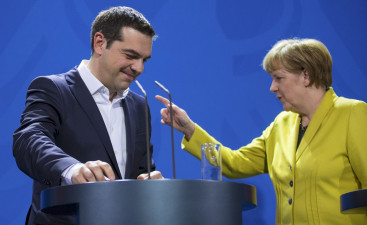 "We are open in the negotiations to look into the VAT rates and pension issues," the official said.
Athens could consider a flat VAT rate on all goods and services except for foods and books and adjustments in the supplementary pensions, but not cutting those which are below €300 (£216) a month.
On increasing the minimum wage, a campaign pledge, the official said Athens would consult with the OECD and the International Labour Organisation before taking any action.
"We are flexible," the official said.
Another government official said mass redundancies and pension cuts were still among the government's red lines.
Meanwhile, more than two-thirds of Greeks want their government to make a deal with international lenders to unlock aid and do not favour early elections or a referendum if talks hit an impasse.
The survey by pollster GPO for Mega TV, broadcast on April 29, showed that 75.6% believe the government, elected after promising to challenge budget cuts, must strike a deal at any cost, while only 22.8% disagreed.
The poll showed that 58.3% supported the strategy followed by Prime Minister Alexis Tsipras in negotiations with lenders while 39.8%disapproved.
But 72.2% do not want early elections if talks hit a dead end while 61.9% believe that if a deal is clinched it should not be put to a referendum.