Green Day are not holding back in their criticism of Donald Trump. Billie Joe Armstrong and his fellow rockers debuted the lyric video for their latest single, Troubled Times, on Martin Luther King Jr. Day and the president-elect takes centre stage in their anti-hate message.
Directed by Manu Viqueira and David Rodriguez Simon, the artistic visuals feature scenes from the Civil Rights Movement juxtaposed with images of an animated Trump, wearing his famous "Make America Great Again" cap. Protesters can be seen brandishing placards with messages including: "Stop racism, Islamophobia and war," and, "No border wall."
Addressing the importance of MLK Day, Armstrong said in a statement: "Today we celebrate love and compassion more than ever." Lyrics in the song, include: "A new day dawning/ Comes without warning/ So don't think twice/ We live in troubled times," and, "What part of history will we learn? When it's repeated."
Other scenes include the March On Washington and KKK rallies. Troubled Times appear on Green Day's latest Revolution Radio album, which topped both the UK and US Billboard 200 chart in October. Expressing their fears over Trump's forthcoming presidency, the clip ends with mushroom clouds representing a nuclear war.
Green Day have been vocal in their dislike of Trump, 70, and controversially chanted: "No Trump, No KKK, No fascist USA," while performing Bang Bang at the American Music Awards and MTV EMAs in 2016.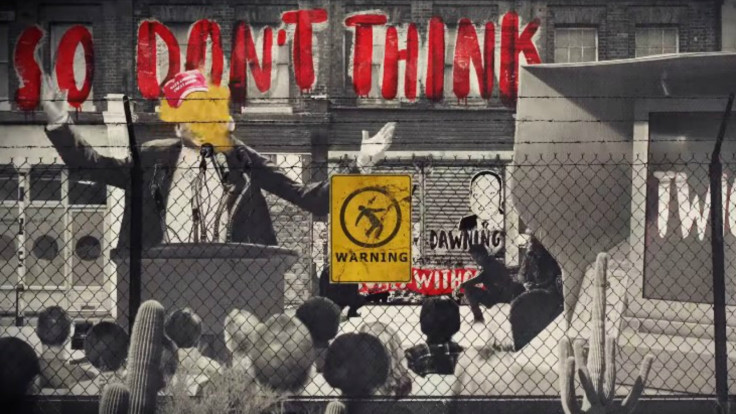 Explaining their anti-Trump slogan, Armstrong previously said: "We didn't rehearse it. We're just as much in shock as everybody else is about this... But I think with the AMAs [performance], it was a good start to challenge [Trump] on all of his ignorant policies and his racism."
Trump is gearing up for his inauguration on 20 January, which will include performances from Jackie Evancho, Toby Keith, 3 Doors Down and Lee Greenwood. However, Jennifer Holliday, Andrea Bocelli and a Bruce Springsteen cover band have all pulled out after receiving backlash over their involvement in the celebrations.
Watch Green Day's Troubled Times lyric video: