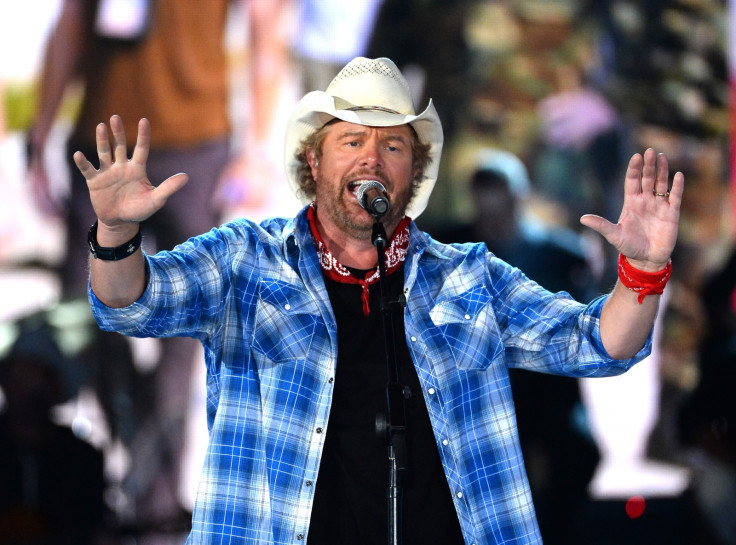 Toby Keith will not apologise for taking part in Donald Trump's inauguration. The country music star is confirmed to perform at a Washington DC event to celebrate the president-elect's first term in the White House.
Keith, 55, will sing at the Lincoln Memorial on 19 January as part of the Make America Great Again! Welcome Celebration. Despite criticism over his involvement in the inauguration, Keith remains unapologetic and has pledged to perform for the president-elect.
In a statement released to Entertainment Weekly, Keith said: "I don't apologise for performing for our country or military. I performed at events for previous presidents [George W.] Bush and [Barack] Obama and over 200 shows in Iraq and Afghanistan for the USO."
Other acts confirmed for the concert, include 3 Doors Down, Lee Greenwood, The Piano Guys and the Frontmen Of Country. Dreamgirls star Jennifer Holliday was also scheduled to perform but quickly pulled out after a backlash from her LGBT fans.
Explaining her decision to quit the gig, Holliday said: "I sincerely apologise for my lapse of judgement, for being uneducated on the issues that affect every American at this crucial time in history and for causing such dismay and heartbreak to my fans."
The And I Am Telling You Singer continued: "I was honestly just thinking that I wanted my voice to be a healing and unifying force for hope through music to help our deeply polarised country. Regretfully, I did not take into consideration that my performing for the concert would actually instead be taken as a political act against my own personal beliefs and be mistaken for support of Donald Trump and Mike Pence."
Classical singer Andrea Bocelli has also cancelled his performance during the inauguration although Jackie Evancho is confirmed to sing the US national anthem. Members of the dance collective The Rockettes and the Mormon Tabernacle Choir are also set to perform.