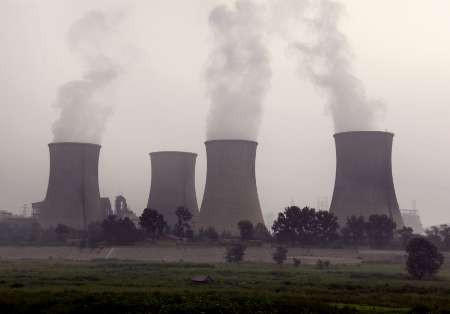 Greenhouse gases have reached new highs in 2010 and increased beyond the worst predictions of the U.N.'s climate experts.
Human activities such as burning fossil fuels, cutting down carbon dioxide-absorbing forests and increasing the use of fertilisers have led to record levels of carbon dioxide, methane and nitrous oxide in the atmosphere last year, according to the latest report published by the U.N. World Meteorological Organisation (WMO) on Monday.
Between 1990 and 2010 there was a 29 per cent increase in the warming effect on our climate system with greenhouse gases the major culprit. Carbon dioxide, in particular, accounted for 80 per cent of this increase.
Greenhouse gases are major contributors to global warming because they trap radiation in the atmosphere, causing temperatures to rise.
The burden of greenhouse gases, due to human activities, has been described as reaching "record levels since pre-industrial time", according to WMO Secretary-General Michel Jarraud.
"Even if we managed to halt our greenhouse gas emissions today - and this is far from the case - they would continue to linger in the atmosphere for decades to come and so continue to affect the delicate balance of our living planet and our climate."
Jarraud said now, more than ever before, we need to understand the complex, and sometimes unexpected, interactions between greenhouse gases in the atmosphere, Earth's biosphere and oceans.
"WMO will continue to collect data to further our scientific knowledge through its Global Atmosphere Watch network spanning more than 50 countries, including stations high in the Andes and Himalayas, in the remote expanses of Alaska and in the far South Pacific," he said.
But concentrations of other gases such as HCFCs and HFCs, which are used to substitute CFCs because they are less damaging to the ozone layer, are also quickly increasing.
Both HCFCs and HFCs are compounds that are classified as very potent greenhouse gases and last much longer in the atmosphere than carbon dioxide.
Methane, released into the atmosphere by activities such as cattle farming and landfill sites, contributed about 18 per cent to the overall global increase in warming since 1750 and is the second most important greenhouse gas after carbon dioxide.
Scientists were also concerned about the increase in nitrous oxide in the atmosphere, which accounted for a 6 per cent increase radiative forcing since 1750 and is classified as the third most important greenhouse gas.
It has significantly increased over the past ten years, largely due to the use of nitrogen containing fertilizers, including manure, which has profoundly affected the global nitrogen cycle.
The impact of nitrous oxide on the climate, over a 100 year period, is 298 times greater than equal emissions of carbon dioxide.
It also plays an important role in the destruction of the stratospheric ozone layer which protects us from the harmful ultraviolet rays of the sun.
The concentrations exceed the worst of seven emissions scenarios in 2001 from the U.N.'s expert climate panel.
The WMO report comes shortly after the Intergovernmental Panel on Climate Change (IPCC) announced warnings of extreme weather conditions as evidence of global warming takes hold and after U.N. Secretary-General Ban Ki-moon called for a collective global fund to fight the impacts of climate change.
The topic is also receiving much attention ahead of the U.N. climate conference (COP17) scheduled to begin on Nov. 28 in Durban, South Africa, where the world's governments and leaders will discuss a new global agreement to tackle greenhouse gas emissions and climate change.