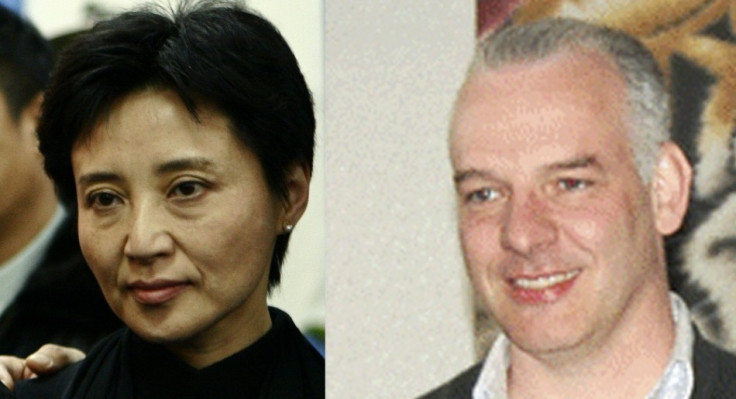 On 20 August 2012, standing in the dock of a courtroom in Hefei, former distinguished lawyer and businesswoman Gu Kailai, wife of dismissed one-time Politburo member Bo Xilai, listened as the judgement was given against her for the murder of British businessman, Neil Heywood.
Her "despicable" crime deserved the death penalty, the judge told her, but this sentence would be suspended for two years because Mr Heywood had (verbally) threatened her son. Providing she could behave herself, the sentence would be commuted after this time to life imprisonment.
The Court's vice-president, Tang Yigan, told the media that Ms Gu Kailai, 53, had cooperated with the authorities and regretted killing Mr Heywood, 41, by cyanide poisoning because of a financial dispute she and her son, Bo Guagua, had had with Mr Heywood in 2011. Although her son was threatened verbally and resulted in Gu Kailai suffering a form of mental breakdown, the Court did not accept the defence's claim that the threat had gone further.
Even this verbal threat is questioned by the friends of the victim, suggesting that Mr Heywood has been deliberately smeared so as to allow the passing of a more lenient sentence. However two British diplomats, who attended the trial and sentencing, said that they were satisfied with the proceedings, adding that their thoughts were with Mr Heywood's family. Whilst the lawyer in Hefei representing the victim's relatives said that: "We respect the sentence from the Court."
Sentenced with Ms Gu was a family aide, Zhang Xiaojun, 33, to serve nine years. Once again, the Court saw fit to grant leniency after he had made a full confession and expressed regret. He will serve nine years for accessory to murder. In a separate trial, four police officers from Chongqing were jailed for between five and 11 years for faking, hiding and destroying evidence to protect Ms Gu.
Gu Kailai is the second wife of Bo Xilai, a politician until earlier this year destined for the highest ranks of China's Politburo. Both husband and wife are from families of the highest prominence in the Communist Party. Bo Xilai's father, Bo Yibo was one of the founding members of the People's Republic and a Minister of Finance until he seriously disagreed with Mao over certain aspects of the Great Leap Forward and Cultural Revolution in the 1960s. All family members were persecuted and imprisoned and Bo Xilai's mother was beaten to death by Red Guards.
The youngest daughter of General and Commissar Gu Jingshen, Gu Kailai and her family also suffered at the hands of a more extreme form of Communism than they agreed with. General Gu was Commissar of the 15 Corps of the PRC Third Army sent to Korea in February 1951. It was the only Corps, of three, not to be defeated at the Battle of Soyang River and on his return to China after 1954, General Gu was awarded a number of positions in the Government. Later though he and his wife, both from good families, were accused of "Rightist" thought. After being ordered to divorce his wife and refusing, the whole family was punished with imprisonment and/or degrading treatment.
Gu Kailai studied Law and International Politics at Beijing University and met her husband Bo Xilai in Dalian when he was County Party Secretary of Jin County. An attorney by profession, she established the successful Beijing, Kailai law firm and has represented both private and corporate (particularly Dalian firms) clients in the USA as well as China and has legal and business connections in the UK and Singapore.
The victim in all this was Mr Neil Heywood, ex Harrow and Warwick University from where he graduated in International Relations. From the early 90s he lived a great deal of the time in China and spoke Mandarin fluently. He established a company linking firms in the West with businessmen and politicians in China. It was through these activities that he met Bo Xilai forming a close business and personal relationship with the Bo's. Apparently, it was through an introduction by Gu Kailai that Mr Heywood met his wife Wang Lulu, a native of Dalian.
Much of the Bo's business affairs were conducted through Mr Heywood and his company, particularly when it seemed inappropriate for such prominent Party members to be so involved in business affairs, an arrangement that applied as much in Dalian, Beijing or Chongqing.
Ann Edwards in the Mail on 20 August 2012 claims that Gu Kailai "confessed to killing her lover" who "threatened to expose her playboy son." This is not the first time that it has been suggested that Gu Kailai and Mr Heywood were more than "just good friends" though until very recently, other papers refuted the suggestion. Ms Edwards, however, claims that the (longstanding) intimacy was confirmed by one of Mr Heywood's bodyguards at the trial, Mr Michael Wright and that their affair carried on in China and the UK (Bournemouth).
Chris Buckley of Reuters writing from Chongqing on 16 April 2012 and quoting "sources close to investigators" points to a major rift between Gu and Heywood over the moving of a considerable sum of money abroad when he demanded a "bigger cut". On being rebuffed he apparently threatened to expose her to the ruination of her and her family. The threat was made in a manner that really struck home.
Mr Buckley quotes a noted Chongqing businessman, Wang Kang, who has numerous connections to Chinese officials:
"Bo and Gu Kailai had not been a proper husband and wife for years...Gu Kailai and Heywood had a deep personal relationship and she took the break between them deeply to heart." Mr Heywood was her "soul mate" and her mentality was: "You betrayed me, and so I'll have my revenge."
Forty-one year-old Mr Heywood died on 14 November last year having been summoned from Beijing by Gu Kailai to the Nanshang Lijing Holiday Hotel some days before and given a drink believed to be laced with potassium cyanide. It is agreed that Gu Kailai was not at the hotel (or the Sheraton where he also spent time during that visit) during Mr Heywood's stay but it was quickly put about that Mr Heywood had suffered a cardiac arrest after taking too much alcohol. This immediately alerted suspicions amongst family and associates for although he was a chain smoker, Mr Heywood only drank a little.
A few days after Mr Heywood's death, Gu Kailai, it is reported, arranged to meet his widow in a Chongqing café. On arrival, Mrs Heywood found that the police had already cleared the café and she was left alone with Ms Gu and her armed bodyguards. Wang Lulu was persuaded that there was no need for an autopsy and that her husband would be cremated forthwith.
The author, Jonathan Fenby told Channel 4 News on the eve the verdict was announced that if the victim had been Chinese, it would never have come to light and I would think that foreigner or not, if Chongqing's Police Chief, Bo Xilai's Deputy and protegé Wang Lijun had not fled to the US Consulate in Chengdu on 06 February 2012, nothing at all would have happened.
Wang Lijun, a Mongolian whose birth name is Ünen Baatar, is famous for his "strike hard" campaigns against corruption which have pulled in over 6,000 suspects in Chongqing alone since 2009. No surprise, he's at the top of a hate list, yet it is reckoned that there lies a tangled web all of its own and that Bo Xilai had him under investigation and may even have been on the point of having him arrested when he bolted. It's thought that he has been on "extended leave" and is shortly to be put on trial for, as yet, unspecified charges.
Finally, although not getting too much prominence in the judgement, it is coming to light that Gu Kailai is suffering from and has been for a number of years, serious mental health problems. Noted by, amongst others, her son Bo Guagua but also - and probably too late - by Mr Heywood himself. In October 2011 when this serious breach in their relationship seems to have occurred, he began to fear for his safety. He may have confided to his wife how matters stood but there is a suggestion that Mrs Heywood discerned his unease and became anxious for her family's safety - the couple having two young children. He certainly felt compelled to answer the summons to Chongqing.
It is important in Chinese law that a guilty defendant recognises their guilt and confesses accordingly, thanking the judge and court even for a death sentence. Gu Kailai was most Chinese: "I think the verdict is just, it fully reflects the Court's special respect toward the law, reality and life."
Beijing will be in accord.