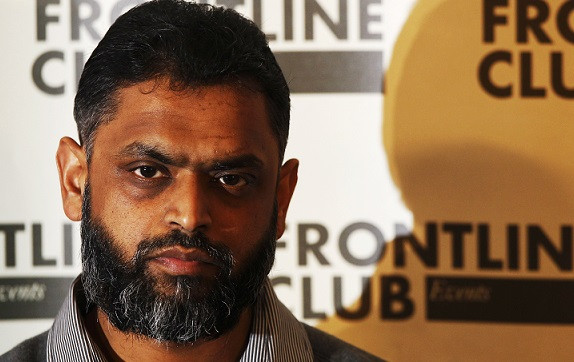 Former Guantanamo Bay prisoner Moazzam Begg will appear in court today charged with terrorism offences relating to the Syrian civil war.
Begg, 45, of Hall Green in Birmingham, was charged with providing terrorist training and funding terrorism overseas.
He was arrested on Tuesday with a woman, Gerrie Tahari, 44, of Sparkbrook, Birmingham, who has also been charged with facilitating terrorism overseas.
They will appear at Westminster Magistrates Court today.
A 36-year-old man from Shirley, Solihull, and a 20-year-old man from Sparkhill, Birmingham arrested on the same day remain in police custody on suspicion of facilitating terrorism overseas.
Under terrorism legislation, police were granted extra time to interview all four suspects, and seized vehicles and electronic equipment belonging to them.
Begg was previously arrested in Islamabad, Pakistan, in 2002, by the US and taken to Bagram Airfield in Afghanistan, where he was held for a year, before being transferred to Guantanamo Bay in Cuba, were he was detained for a further three years without charge.
It is alleged that he was held in solitary confinement for the last two years of his incarceration, and was one of the last Britons to be released from the camp.
He had initially moved to Afghanistan in 2001 with his family, and in 2002 moved to Pakistan when the US-led war against the Taliban in Afghanistan started.
After his release from Guantanamo, he returned to the UK, where he became the director of civil liberties group Cage, which campaigns against the "erosion of the rule of law" in the War on Terror, and for the release of detainees, many of them Muslim.
After his arrest on Tuesday, Cage director Asim Quereshi said: "We are disgusted that Moazzam Begg is being retraumatised with the same guilt by association accusations that resulted in his unlawful incarceration in Guantanamo Bay. We fully support our colleague and see his arrest as politically motivated and as part of a campaign to criminalise legitimate activism."
British security forces believe that hundreds of UK citizens have travelled to Syria to fight for jihadist organisations, and fear some may have returned home radicalised and prepared to commit terrorist attacks.