Mother of Down's Syndrome girl tells doctor who advised her to abort: 'My child is perfect'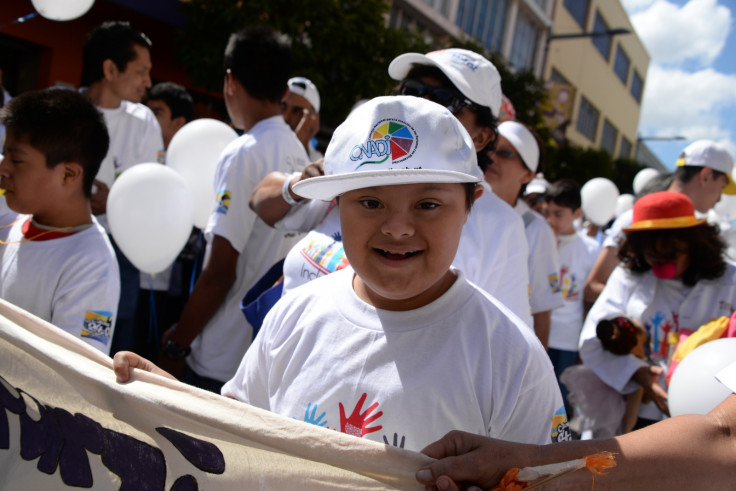 A mother of three who was advised by a specialist to abort her youngest daughter when it was discovered she had Down's Syndrome has written an emotional letter to the doctor expressing her joy that she ignored the advice. Courney Baker from Sanford, Florida chose to keep Emersyn Faith - and now, 15 months later, says she couldn't imagine life without her beautiful little girl.
Courtney said the prenatal specialist repeatedly advised her to abort, so she wrote to tell him how glad she was that she kept Emersyn. She even snapped her daughter posting the letter to the specialist and posted it on the Facebook page of activist Parker Myles, where it was shared thousands of times.
Emersyn's two older sisters - Rhyan, 15, and Evynn, 11 - fell for Emersyn the first time they met her, Courtney told ABC News. "I knew how important it was going to be to write that letter, before Emmy was even born."
In the letter Courtney said: "I'm sad you were so very wrong to say a baby with Down's Syndrome would decrease our quality of life. And I'm heartbroken you might have said that to a mommy even today. But I'm mostly sad you'll never have the privilege of knowing my daughter, Emersyn.
"Because, you see, Emersyn has not only added to our quality of life, she's touched the hearts of thousands. She's given us a purpose and a joy that is impossible to express. She's given us bigger smiles, more laughter and sweeter kisses than we've ever known. She's opened our eyes to true beauty and pure love."
Down's Syndrome is a genetic condition that affects around 775 children in the UK alone each year. Down's syndrome babies have learning disabilities and distinct facial characteristics. The condition is caused by the presence of an extra copy of chromosome 21 in the cell.
© Copyright IBTimes 2023. All rights reserved.