Muhammad Ali's family have shared details of his last moments, revealing that a "final bell" poignantly rang out from his kidney dialysis machine as he breathed his last. The boxing legend passed away on 3 June at a hospital in Phoenix, Arizona, after battling respiratory problems.
He had been suffering from Parkinson's disease, which had grown more advanced in recent years. The three-time heavyweight world champion was surrounded by his family, including his nine children who had gathered at an Arizona hospital after they were told he didn't have long left.
His daughter, Rasheeda, told People magazine that she believes the sporting legend, who was renowned for his razor-sharp wit, managed to have the last laugh, just moments before slipping away.
"The dialysis bell went 'ding, ding, ding'," she explained. "We all kind of stopped. I thought 'Somebody's ringing a boxing bell'. I looked at him instinctively and said, 'Get your ass up!' Everybody started laughing."
She said it was a typical trait of the charismatic star, who knew how to bring a healthy dose of humour to any situation. "Dad did that. He was looking for a way to make the mood more comical and stop us crying," she said. "I felt he rang that bell on purpose, and then we all burst in to tears again."
His other daughter, Hana Ali, added that it was painful to watch her father lose his last fight. "He'd gotten up off the mat so often, it was hard to believe he wouldn't get up one more time. We all tried to stay strong and whispered in his ear, 'You can go now. We will be OK. We love you. You can go back to God now.' "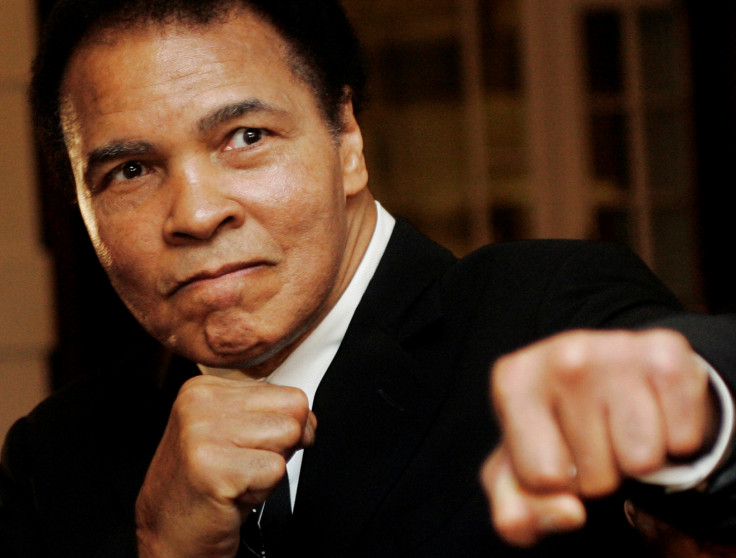 Another daughter, Laila, who followed in her father's footsteps to being a boxing champion herself, revealed that the man who faced death every time he stepped in the ring, feared dying. "One of the things he was afraid of was death, and he definitely wouldn't want to just move on," she shared. "But we're not in control, God is in control. All of us were hugging and kissing him, holding his hands, chanting the Islamic prayer."
According to Mail Online, Ali's spokesman Bob Gunnell said the sports legend died surrounded by the love of his family. "'It was a wonderful thing to witness. A lot of love and every member of his family was there," he said. "There was a lot of crying ... but more important they did it with dignity and kindness, as Muhammad lived his life."
World leaders, celebrities, family, friends and 30,000 members of the public are set to flock to Louisville, Kentucky, on Friday (10 June) for the former champion's funeral. Actor Will Smith, who played the boxing legend 2001, and Lennox Lewis - who, like Ali, held the world heavyweight title three times - will be among the pallbearers in attendance. Bill Clinton and comedy actor Billy Crystal will deliver eulogies for Ali at Louisville's KFC Yum! Centre.