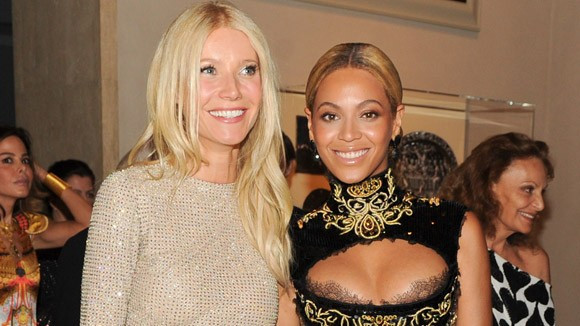 When you are having relationship problems there is nothing better than a weekend away with the girls - just ask Gwyneth Paltrow.
The Hollywood actress has reportedly arranged a four-day break for her friend Beyoncé in a bid to help her escape the drama surrounding her marriage to Shawn 'Jay Z' Carter.
According to the Sun newspaper, the Iron Man star, who recently split from her husband Coldplay frontman Chris Martin, thinks yoga and hiking at a retreat in Central California is just what they need while they deal with their marriage problems.
"Gwyneth reckons this is just what her friend needs to get her energy back,'' a source said.
Queen B has been dealing with the fallout of her sister Solange's attack on Jay Z as well as reports of the rap mogul's alleged infidelity in recent weeks. She is said to be no longer willing to put up with the rapper's alleged roguish behaviour.
"It's been really rocky for them. There is trouble in paradise," a source previously told Life &Style magazine.
"Beyoncé is extremely careful about her image, and everything she does is thought out and planned. She is obsessed with them appearing as the perfect family."
Stress from her marriage woes is the last thing that the Drunk in Love singer needs as she prepares to kick off her gruelling 'On the Run' stadium tour with Jay Z.
The power couple will need to show a united front as they play a sting of dates across America until August 6, when it wraps up in San Francisco, California.
Beyoncé is thought to have reached out to Paltrow for support and guidance.
"They've been seeking marriage guidance, as well as advice from pals including Gwyneth Paltrow and Chris Martin, who took the same step and lived apart when their marriage was in crisis, to get some much-needed breathing space," a source told Grazia magazine.