A remote town in Australia has been engulfed by a giant tumbleweed known as hairy panic. Residents of the cathedral city Wangaratta, in the northeast of Victoria, saw the two-metre high tumbleweed swallow their homes, cars and nearby shops.
It is thought the grass is blowing in from a nearby paddock which had been neglected. While it has been a problem for a few years, dry conditions have made the hairy panic worse but the amount seen this year has been unprecedented.
"We're on the border of a farm-zoned rural property and a couple of years ago they planted a crop of hay in there. They didn't plant anything last year and it's just derived from the grass that's died," local Jason Perna told ABC Goulburn Murray. "It'd be great if the farmer actually farmed the land, or did some slashing or ploughing of it just to keep that tumbleweed from growing or spreading any further."
He said they woke up to find a "good six-metre spread" of the tumbleweed across the front of his house. "Two metres high by three metres in diameter that spreads right across the front of the house. It makes it difficult to get the car out in the morning — if you can find it."
Perna added that the situation was frustrating because it takes so long to clear the tumbleweed away. Normally, the council is unable to help because the situation is not considered to be a fire risk – however it is holding an emergency meeting to address the abnormal amount of hairy panic found over the last 24 hours.
Wangaratta council spokesperson Andrew Chuck told Fairfax Media the hairy panic was like "a dandelion on steroids". "It's very, very light, but it sticks together like anything," he said.
Hairy panic is a type of grass found across Australia. Its Latin name is Panicum effusum and it is called 'hairy' because of all the Panicum species, it has the longest hairs along the edges of its leaves. It grows rapidly and forms tumbleweeds from the dead grass, concealing seeds.
Perna added: "We are looking at ways to capitalise on this stuff. Whether we go into the production of scarecrows or raise some money and get some goats in to eat this stuff away. I'm sure farmers have dealt with this for years. It's just nice that people can know about it, understand it and sympathise with it."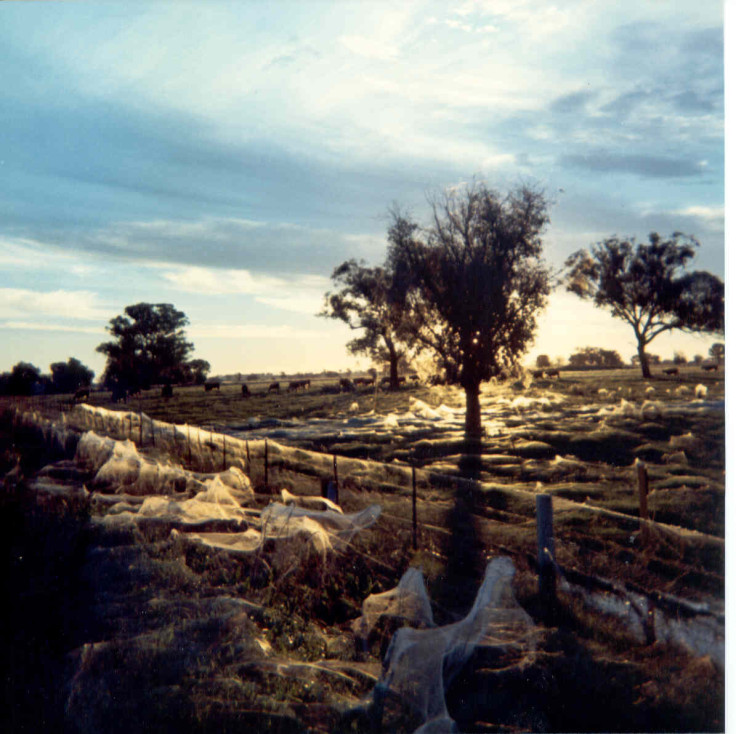 Wangaratta is found in the same region - around 500km – from Goulburn, a town that made headlines last year after it was blanketed with cobwebs while millions of baby spiders fell from the skies. The phenomenon, called Angel Hair, happens as a result of natural migration – the spiders throw threads of cobweb into the air and use them as a parachute moving on the wind.