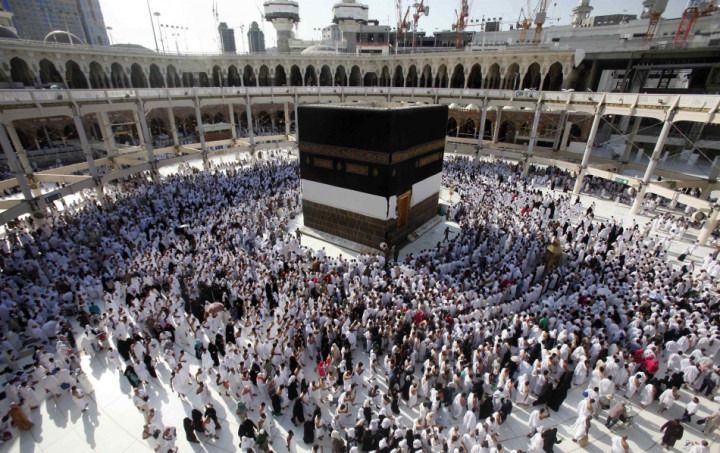 Hajj 2013, the annual pilgrimage of the Muslims, ended with Eid al-Adha celebrations on 16 October as pilgrims prayed at the Grand Mosque in the holy city of Mecca in Saudi Arabia.
An estimated two million Muslim pilgrims from around the world gathered in Mecca for the Hajj, which began on 14 October.
According to the Saudi Interior Minister Prince Mohammed bin Nayef, Hajj 2013 drew fewer pilgrims than last year due to fears of infection from Middle East respiratory syndrome coronavirus (Mers-CoV). However, no cases were reported in Mecca.
Muslim pilgrims travel to the Mina Valley following in the footsteps of their prophet Muhammad after offering prayers at Kaaba - the black cuboid-shaped holy structure at the centre of the Grand Mosque.
Muhammad is supposed to have visited Mecca from Medina in the seventh century AD and that eventually became the first Hajj, giving rise to this annual pilgrimage tradition of the Muslims.
At Mina, pilgrims cast seven pebbles at a pillar to re-enact the Islamic tale of when Abraham threw seven stones at a devil before he was to sacrifice his son Ismail at God's behest. Abraham's willingness to sacrifice his only son is commemorated as Eid al-Adha by slaughtering sheep, goats, cows and camels.
As part of the Hajj pilgrimage rite, pilgrims also travelled to Mount Arafat, or The Hill of Forgiveness, where the Prophet Muhammad gave his last sermon.
Scroll down to view the photos from Hajj 2013.