British Muslim pilgrims travelling to Saudi Arabia for hajj have been warned about fraudulent travel companies looking to take advantage of the religious travellers.
The City of London Police has launched its National Hajj fraud campaign to make pilgrims aware of fake companies offering deals to Mecca.
Around 25,000 British Muslims are preparing to travel to Saudi Arabia for hajj, an annual pilgrimage that starts on 13 October. Pilgrims walk from Mecca to Mina to the Plain of Arafat, where they stand near the Mount of Mercy to ask Allah for forgiveness.
It is a religious duty that all able-bodied Muslims who can afford to do so must carry out at least once in their lifetime.
In total, British pilgrims will spend around £125m on travel costs to the holy city. However, thousands of people will fall prey to fraudulent companies that offer cheap deals for flights, accommodation and visas to the Kingdom.
Police, working with the Association of British Travel Agents, have created a video to highlight the problem and make people aware of risks while booking their trips.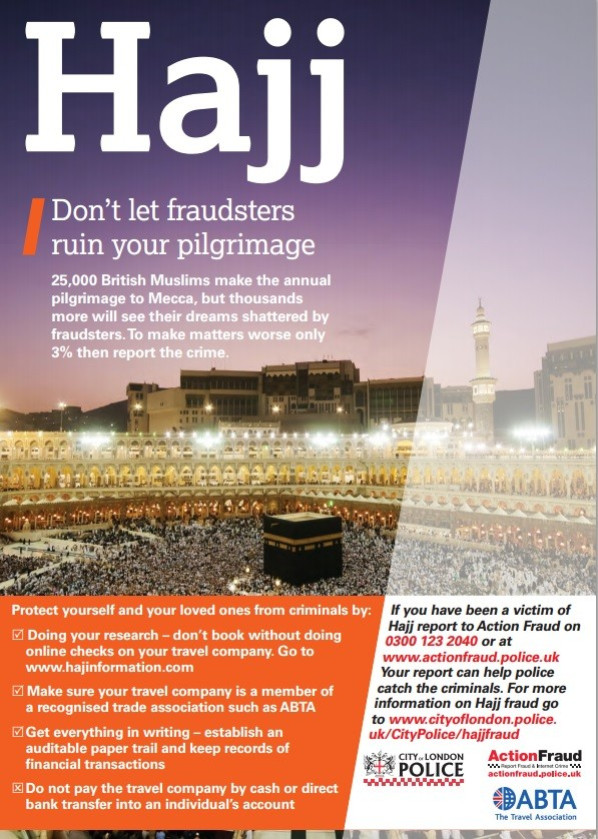 A statement from West Midlands Police said: "Every year thousands of British Muslims travel to Saudi Arabia for hajj. Sadly, many fall victim to rogue travel operators.
"In some cases, 'Hajj Tours' are being sold at up to 50 per cent of the normal price, but shortly before departure the tour operator closes - leaving people with no tour and no way of getting their money back."
Police are advising pilgrims to check up on travel companies before booking, ensure the company is a member of a recognised trade body, get everything in writing and do not pay the travel company by cash or through direct bank transfer.
Hajj pilgrims have also been warned about remaining vigilant after arriving in Saudi Arabia. Authorities in the Kingdom have already broken up 10 fake hajj companies offering services needed to complete their journey, Al Arabiya reports.
Abdelaziz al-Khudairi, undersecretary of Mecca's governor's office and head of the executive committee of hajj operations, said those responsible will be severely punished.