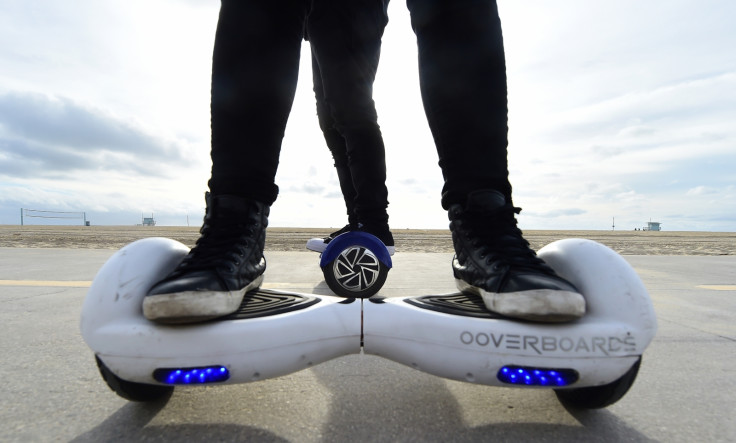 As many as 501,000 hoverboards manufactured by 10 firms have been recalled by the US Consumer Product Safety Commission (USCPSC) due to risks related to fire hazards. The recall comes in the wake of at least 99 incidents over battery packs inside the hoverboards overheating, sparking, catching fire or exploding. There have been reports of burn injuries and property damage.
According to the USCPSC, an independent agency of the US government charged with protecting the public from risks of injury or death associated with the use of consumer products, the hoverboards ranging between $350 and $900 were sold as mass merchandise in the country as well through online retail stores from June 2015 to May 2016.
The recalled models are 16,000 Hover-Ways, 267,000 Swagway X1s, 84,000 iMotos, 70,000 Powerboards, 28,000 Hovertraxs and 25,000 Hype Roams. Manufactured in China, the lithium-ion battery packs inside the hoverboards could overheat while posing risk of products smoking, catching fire and even explosion, notes the USCPSC.
The commission advises users to immediately stop using the recalled products and contact the company selling them to return their products for a full refund. The Alibaba Group has committed to require certifications from the testing agencies for hoverboards sold by third-parties on sites such as AliExpress.com and Alibaba.com, notes the USCPSC.
Speaking to the BBC, a spokeswoman for Swagway said the company would be retrofitting the X1s it received with new UL-certified battery packs.
"UL-Certification means that the product has been tested by Underwriters Laboratories, one of the largest consumer products testing labs in the world," added the spokeswoman: "Please note that this does not affect any of the other models made by Swagway."
This is not the first time concerns were raised over the safety standards of hoverboards. In December 2015, the National Trading Standards (NTS) confiscated 38,000 hoverboards at UK ports and borders, of which more than 32,000 units were not compliant with safety standards, and therefore not safe for use. In the same month, Amazon pulled hoverboards from its website, which were one of the most popular holiday gifts in 2015.
The following month more than 16,000 counterfeit hoverboards were seized in Chicago. The seized products, according to US Custom and Border Protection (CBP) officers, packed unauthorised batteries and had fake trademark logos.