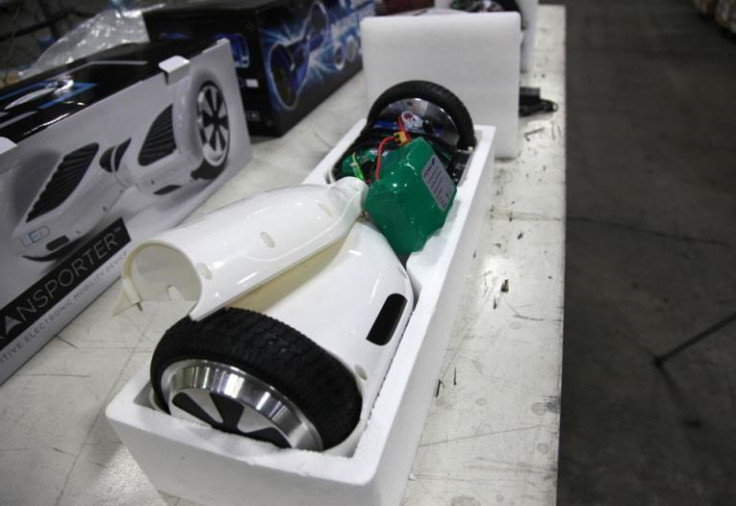 More than 16,000 counterfeit hoverboards valued at over $6m (£4.2m, €5.5m) have been seized in Chicago. According to US Custom and Border Protection (CBP) officers, the self-balancing scooters packed unauthorised batteries and had fake trademark logos.
The authorities expect seizures to increase significantly in the coming weeks due to massive shipments, although the total number is not yet known.
William Ferrara, Director of Field Operations, said: "This is a fine example of our officers and import specialists ensuring that only safe and legal products enter the US. Not only are these hoverboards a serious safety hazard but they also threaten our economic security by hurting legitimate businesses who invest significant amounts of resources into development and protection of their brands."
Poor battery
Hoverboard was one of the top selling items during the 2015 holiday season. But major concerns have surfaced following a spate of fire accidents caused by substandard lithium-ion batteries.
Experts have advised users to be wary about the batteries used in the hoverboards. According to Jay Whitacre, professor of Materials Science and Engineering at Carnegie Mellon University, the cause of the fires is the quality of the batteries used in the hoverboards. High-end models are equipped with reliable and safe batteries, but the power sources in affordable models pose much higher risk.
Whitacre said: "There are a lot of factories in China that now make Li-ion [lithium-ion] batteries, and the reality is that the quality and consistency of these batteries is typically not as good as what is found in top tier producers, such as LG or Samsung. These are known as 'low cost li-ion batteries' by most in the industry — they are not knockoffs or copies, but are instead just mass-manufactured cells."
Shipment from China with fake logo
The hoverboards seized in Chicago were from China, with false seals of approval from Northbrook-based Underwriters Laboratories, which tests products for safety and certification. Ferrara said the fake UL markings give customers a "false sense of security". Some hoverboards have even fake Samsung logos. Some hoverboards came from an ocean container while others were found in air shipments. Ferrara said a number of shippers and importers were involved in this, the Chicago Tribune reported.
Referring to the substandard batteries, Ferrara said neither the battery nor the chargers meet safety norms. The batteries do not shut down automatically after being charged, which results in explosion.
Recently, Singapore Airlines imposed a ban on transport of the lithium battery-powered hoverboards. Besides, more than 32,000 hoverboards were detained at the UK ports and borders by the National Trading Standards over complaints regarding safety standards. Besides, e-commerce giant Amazon urged its customers in the UK and US to throw away their hoverboards.