Real Madrid fans have made surprising demands to the club officials in a pool made by Marca with almost half (49.6%) of the voters supporting the exit of former Tottenham hero Gareth Bale and 30.3% backing Manchester United legend Cristiano Ronaldo to follow the same steps.
The Spanish giants are expected to make a big summer overhaul after the disappointing Champions League elimination against Juventus on 13 May practically condemned them to a season without silverware, as they are also four points behind Barcelona in La Liga with just two games remaining.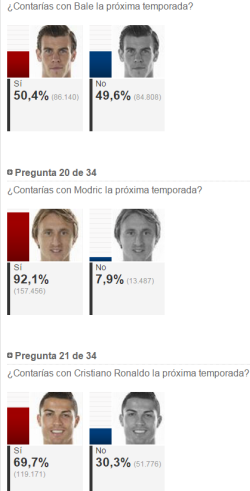 President Florentino Perez already undertook a dramatic reorganisation last season despite the team winning the Champions League and the Copa del Rey – signing James Rodriguez, Toni Kroos, Keylor Navas and United striker Javier 'Chicharito' Hernandez on loan, while selling Angel Di Maria, Xabi Alonso, Alvaro Morata, and Diego Lopez.
With the club's hopes to clinch a title this season all but ended, reports in Spain have claimed Perez is ready to both break out the cash to bring in some marquee stars and also let a number of players go.
Furthermore, Perez is also considering the future of Carlo Ancelotti despite the manager winning the Champions League during his first year in charge.
Marca, whose readers are mostly made up of Real Madrid fans, have launched a big pool on its website to ask the supporters about the expected summer overhaul - and some of the responses have been surprising.
Firstly, even though it looked as if Ancelotti's days in charge were numbered, almost 60% of the voters have urged Perez to give him another chance.
Meanwhile, asked whether they will keep Bale ahead of next season, just 50.4% (more than 86,000 voters) responded yes while 49.6% (more than 84,000) would let him go.
But probably the most surprising of all the responses is about Ronaldo. Even though the former United star has scored 55 goals in 52 appearances this season, just 69.7% of the voters will keep him at the Bernabeu next season while 30.3% will let him go.
The stats are especially shocking when comparing the answers regarding other key players in the squad, as Sergio Ramos, Raphael Varane, Marcelo, James Rodríguez, Isco, Toni Kroos or Luka Modric all have more than 85% of the fans' support to stay.
Meanwhile, the fans have also urged the President to part ways with legend Iker Casillas, as well as other stars such as Sami Khedira, Alvaro Arbeloa, and Fabio Coentrao.