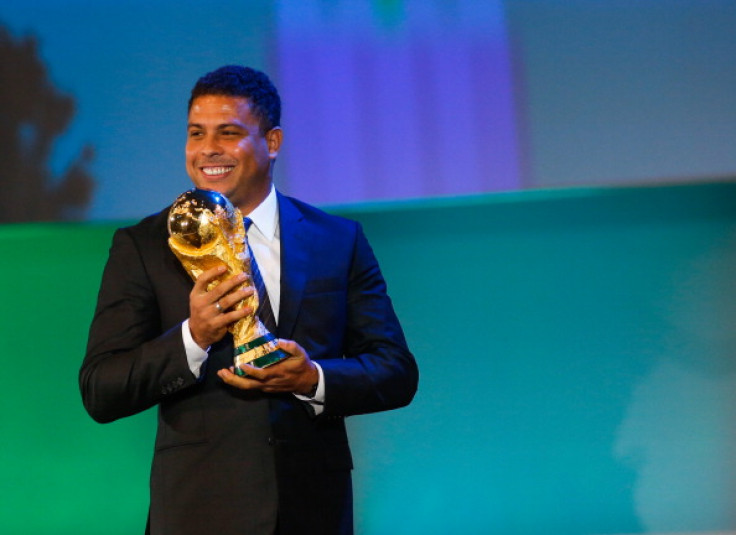 Brazilian football legend Ronaldo Luis Nazario de Lima, commonly known as Ronaldo, celebrates his 40th Birthday on 18 September. Regarded as "a phenomenon", Ronaldo is a three-time Fifa World Player of the year and a two-time Ballon D' Or winner.
Ronaldo played 98 games for Brazil scoring 62 goals and is currently the second highest goal scorer for his country. He represented PSV, Barcelona, Inter Milan, Real Madrid and AC Milan in a career scoring 352 goals in 518 appearances.
Ronaldo won the Golden Ball during the 1998 World Cup where they lost in the final to France. He avenged the loss four years later, leading his country to world cup glory in 2002 scoring both the goals in Brazil's 2-0 win over Germany. He was awarded the Golden Boot for being the top goal scorer in the tournament.
Here are top 10 quotes from former players and experts about the Brazilian legend:
1) My favourite Brazilian footballer of all time is Ronaldo. I was fortunate enough to play against him many times, and I was lucky enough to play against him before he got those serious injuries that affected his career. He was a formidable player, a sensational player. He was sort of like an alien because of what he could do on the pitch. The fact that a footballer like him is not remembered as the best player of all time is a great tragedy in my opinion. He had all the skills he needed to be the best ever- Gianluigi Buffon
2) He was always an example for young people to look up to, for the way he overcame adversity. I was fortunate enough to play alongside him, my idol, for many years and we had so many great times together. He was always an idol of mine and will always be a friend- Ronaldinho
3) Ronaldo, the phenomenon, was the greatest player I have ever coached-Fabio Capello
4) If Ronaldo had not had those several knee injuries, we would probably be talking about a player — I don't know on the same level as Maradona or Cruyff — but very close to them- Emilio Butragueno

5) Without hesitation, Ronaldo is the best player I ever played with. He had such an ease with the ball. He is number one. Every day I trained with him, I saw something different, something new, something beautiful. That's what makes the difference between a very good player, and the exception, who, for me, is Ronaldo- Zinedine Zidane

6) When I was younger, the way the Brazilian Ronaldo played had an influence on me. For me he's the best striker and the best player of all-time. I watch videos of him, and try to do what he does, but it's not easy. It's impossible to pull off the same moves as he did- Karim Benzema

7) Ronaldo was my hero. He was the best striker I've ever seen. He was so fast he could score from nothing, and could shoot the ball better than anyone- Lionel Messi
8) The best player I have ever played with? That's Ronaldo, il Fenomeno. I have seen il Fenomeno do things that nobody else has ever done- Kaka
9) For me, Ronaldo is the greatest. He was as [good as] Pele. There was nobody like him. No one has influenced both football and the players who emerged as Ronaldo- Zlatan Ibrahimovic
10) The first time I saw him play was at Cruzeiro. He was still a kid. It was in a game where he ended up scoring five goals. From that point on he showed he was truly a phenomenon- Cafu