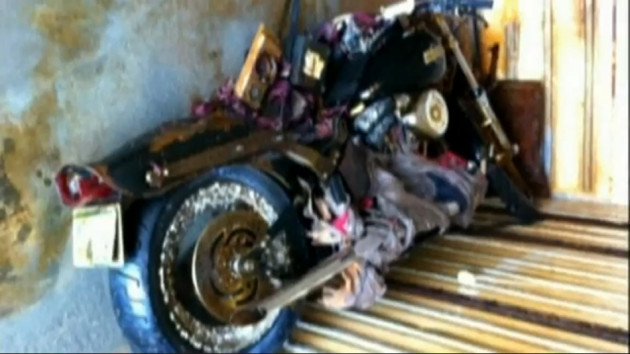 A Harley-Davidson motorcycle that was recently found on a Canadian island after it was swept away in last year's tsunami finally will be returned to its Japanese owner
The bike washed up on British Columbia's Haida Gwaii islands, in a large white container where its owner had kept it. Ikuo Yokoyama, 29, who lost three members of his family in the March 11 tsunami, was located through the license plate number.
"I'm very thankful that it came back," he told public broadcaster NHK. "I would like to thank the man who found my bike in person, but because it's hard to do that, I'd like to thank him here right now."
Peter Mark, who spotted the bike first, told CBC that he was exploring a beach on one of the islands when he saw a motorcycle tire popping out of the container.
"I gotta say, the first thing that popped into my mind when I was looking at the scene [was] I really wonder what happened to this person. I really hope this person is OK," Mark told CBC. "It's quite a shock to actually see it and to actually walk into it. ... [It's] quite an eerie feeling, knowing what happened to Japan and to those people. It kind of hits home quite a bit."
Harley Davidson is working through a local distributor on Vancouver Island to return and restore the rusted bike to Yokoama, who is living in temporary housing.
Yokoama told Japanese media he bought the bike about five years ago and had been using the white container as a garage.
Objects from the Japanese tsunami have been washing up with growing incidence on the west coast of Canada and the US. Recent discoveries include a soccer ball and a volleyball that were swept away in Iwate prefecture and washed ashore on Alaska's Middleton Island.
The Maritime Museum of British Columbia last week inaugurated the Tsunami Debris Project, an online attempt to gather pictures of flotsam that has washed ashore with the purpose to reunite them with their owners.
"The idea is to not only document, but to showcase them in an exhibit-type of way, and to tell the social and human side of the story with the idea that there might be a few items that come over that have some personal or sentimental value for these people that have lost everything," project coordinator Linda Funk told ABCNews.com.