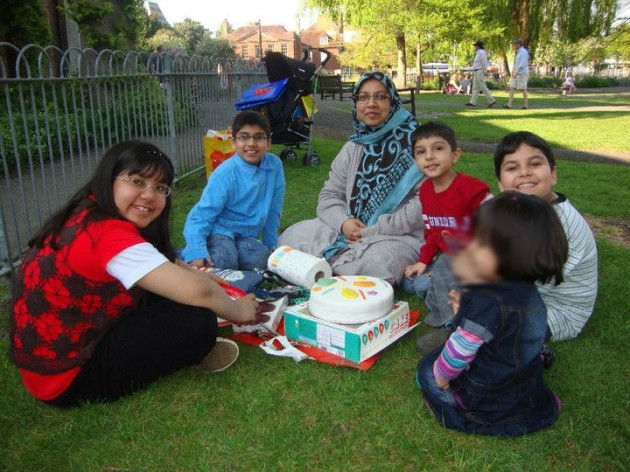 Essex police are treating the fire which engulfed a house in Harlow, Essex as suspected arson after finding evidence to suggest an as yet-unspecified form of accelerant was used.
The forensic investigation will continue into the cause of the house fire, which killed five members of the same family and left a sixth victim, a three-year-old girl, in a critical condition.
A spokesman said: "The cause of the fire is still under investigation and detectives cannot rule in or rule out all lines of inquiry and cannot speculate on the motive or cause."
Detectives said there is no evidence to suggest the fire was racially motivated attack.
A statement from Essex Police said: "Painstaking forensic examinations will continue today at the scene of the fatal fire in Barnmead, Harlow which saw the tragic loss of five members of one family in the early hours of yesterday morning.
"There will be much activity at the property, the home of Dr Abdul Shakoor who lost his wife Sabah Usmani and four children Hira, Sohaib, Muneeb and Rayyan in the blaze.
"The youngest child, Maheen who survived the fire is still being treated for her injuries at Broomfield Hospital's specialist burns unit in Chelmsford and her condition is described as critical but stable."
Dr Abdul Shakoor, the father and husband of the victims, has now been moved to the Broomfield Hospital to be closer to his surviving daughter.
Reports suggest he jumped to safety from a first-floor window. Police said he "fought hard to save his family in appalling conditions".
Spate of arson attacks
According to the Times, neighbours are now suggesting that the fire could have been started by a serial arsonist. They said there have been a number of arson attacks on cars, while three nearby houses have been set alight since 2009.
As well as the family home, a Ford Focus was also on fire when emergency services arrived on the scene on Monday morning.
Gary Beautridge, head of the Essex and Kent Serious Crime Directorate, said: "Over the next few days our investigation will gain pace and the results of forensic examinations will help direct our inquiries. What is clear at this stage that this could potentially be a long running scene investigation."