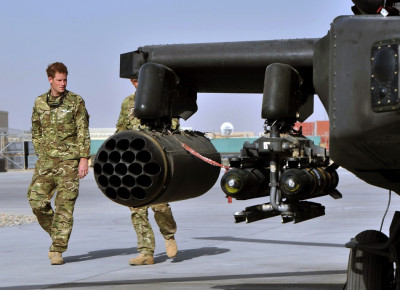 Prince Harry has been deployed to Afghanistan for a four months tour of duty with the British Army as Apache helicopter pilot.
The Ministry of Defence confirmed that Captain Wales, as Harry is known in the military, has arrived at the Britain biggest base of in the country - Camp Bastion in Helmand.
"Captain Wales, with his previous experience as a Forward Air Controller on operations, will be a useful asset," Royal Navy Captain Jock Gordon, Commander of the Joint Aviation Group, said.
Harry, who turns 28 next week, will take part in combat mission against the Taliban together with his company, the 662 Squadron, 3 Regiment, Army Air Corps.
It is the second time the prince takes service in Afghanistan.
He secretly spent 10 weeks in the Helmand province in 2007-08 before being spotted by the media and subsequently pulled out for security reasons.
The Ministry of Defence had agreed a news blackout with British media not to jeopardise the Prince safety, making his presence known to the Taliban.
When Australian and US media revealed his presence on the ground, a disappointed Harry was forced home.
He later said it was a waste of money and time to train him as a helicopter pilot not to then allowing him to serve.
"I'd just be taking up a spare place for somebody else if they didn't have me going out on the job," he said.
This time his deployment has been officially announced.
"He will be in a difficult and demanding job. And I ask that he be left to get on with his duties and allowed to focus on delivering support to the coalition troops on the ground," said Captain Gordon.
The prince had been partying in Las Vegas days before to leave for warzone.
Photographs of Harry naked playing a stripping game with some girls in the Sin city were published by gossip site, TMZ.
Re-published only by The Sun in the UK, the picture became the centre of a discussion on press freedom and conduct in Great Britain.
It appeared as if the third-in-line to the throne had once again shown an error of judgment and lapsed into the 'playboy prince' persona he has tried so hard to shake off.
But the Prince would have known his long-weekend break was his last chance to enjoy himself before the dangerous work flying Apache helicopters began.
Captain Wales is the first member of the Royal Family to be deployed in active combat area since his uncle Prince Andrew fought in the Falklands war.