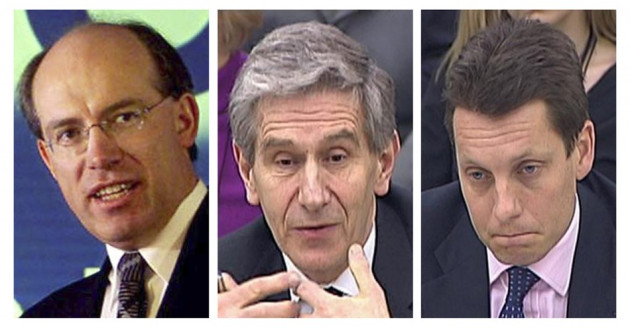 The Parliamentary Commission on Banking Standards has accused senior HBOS bankers of playing a key role in the collapse of the UK's fifth biggest bank, and asked the market regulator to ban them from taking over any role in the financial sector.
The commission's report, entitled An Accident Waiting to Happen, said that the "colossal failure" of management perpetrated by former chairman Lord Stevenson and past chief executives Sir James Crosby and Andy Hornby ultimately resulted in the bank's downfall and £20.5bn ($31bn, €24.2bn) taxpayer bailout at the height of the financial crisis.
UK-based private equity group Bridgepoint said Friday that Crosby had resigned from the group's board following the publication of the report.
The mismanagement by the bankers, who still hold positions of influence in business and politics, would have resulted in the bank's failure even without the 2008 financial crisis, the commission said.
The bank's "reckless" lending policies resulted in losses of £46bn, comprising the £25bn lost on bad corporate loans, the £15bn lost in international business and £7bn at the treasury unit, according to the report.
The commission, which was set up to improve the UK's banking system following the 2008 financial crisis, noted that the UK Financial Services Authority (FSA) had not looked into the matter to conclude whether the trio should be stripped of their approvals to carry out major financial functions.
"The FSA appears to have taken no steps to establish whether they are fit and proper persons to hold Approved Person status elsewhere in the UK financial sector," the report said.
The financial regulator had earlier fined former HBOS director Peter Cummings £500,000 and banned him from working in the City for life.
However, the commission said that the blame extends far beyond Cummings, and called on the regulator to consider banning Crosby, Hornby and Stevenson from taking up important positions in the City.
"The primary responsibility for the downfall of HBOS should rest with Sir James Crosby, architect of the strategy that set the course for disaster, with Andy Hornby, who proved unable or unwilling to change course, and Lord Stevenson, who presided over the bank's board from its birth to its death," the commission said.
The commission also demanded an apology from the former HBOS bosses for their "incompetent and reckless board strategy" that resulted in the bank's destruction.
Crosby had also served as the deputy chairman of the FSA. He is currently working in the City as a member of the European Advisory Board at private equity firm Bridgepoint.
Despite allegations of mismanagement at HBOS, both Crosby and Stevenson have retained their titles.