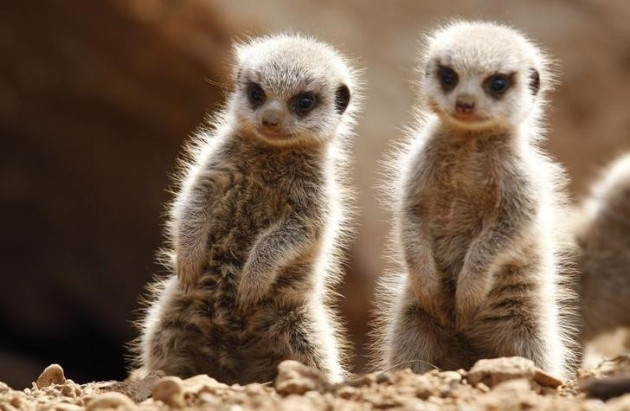 Sony has introduced an 84in version of the television which costs £25,000 and is only available from Harrods.
LG has produced an 84in set which is on sale at Currys for £22,000.
4K is four times sharper than ordinary high definition sets, and emerging as a potential rival to 3D technology.
Unlike 3D, ultra high definition 4K does not require special glasses.
Singer George Michael has three sets and a Gulf prince is reported to have placed an order for six.
We are, of course, talking about 4K television, which offers four times the sharpness of currently available HD resolution.
The BBC is stealing a march on other broadcasters by filming Survival, the first wildlife blockbuster shot in ultra-HD, which features meerkats and other wildlife which gives the programmes a more "cinematic" look.
"There's a new reality which those images give. I think it makes the images more engaging," Mike Gunton, creative director of the BBC's Natural History Unity told the Independent.
"You feel you can almost touch them and get into the heads of the animals."
Last year, the BBC filmed much of the London 2012 Olympics in 4K, using equipment borrowed from its Japanese counterpart, NHK.
Several feature films are being re-mastered in 4K, including The Amazing Spiderman and The Girl With the Dragon Tattoo.
In order to watch 4K, you'll need a new TV, a large bank balance and a huge living room.
Samsung recently announced the first of its 4K TVs - the 85-inch UN85S9 which is the world's largest Ultra High-Definition TV.
The huge screen is suspended within a metal frame reminiscent of an easel, which can be tilted up and down. The frame holds a 120-watt speaker system that surrounds the display.
There's no pricing information yet, but Samsung say they will release the UN85S9 in March.
For viewers seeking smaller and cheaper models, 55in and 65in versions are expected to be go on sale later this year.
4K TV sounds great, but there is one other problem: the amount of data required for 4K video content is huge. With just an hour of 4K video running into the hundreds of gigabytes even when compressed, you can't use an aerial, satellite dish or standard internet connection to deliver it.
But a solution is on the horizon. The ITU (The International Telecommunications Union) has just given first-stage approval to a new, much more efficient video codec: High Efficiency Video Coding (HEVC).
Stephen Langdon, manager of multicast, IPTV and video products at NBN Co said: "Optical fibre will be the only real effective way of getting 4K content to the consumer."
"[4KTV] is almost 3D without being 3D - it's so immersive that you just feel like you're looking out of a window. It's the clearest thing you've ever seen."