David Haye will jump at the chance to fight heavyweight world champion Anthony Joshua if the opportunity arises following his return from injury, according to former British boxer Gary Logan.
Haye is currently recovering from surgery on an achillies injury he suffered during defeat to Tony Bellew, a result which preceded Joshua's stunning stoppage of Wladimir Klitschko at Wembley Stadium.
Despite the nature of 36-year-old Haye's third defeat in 31 fights he remains keen on a return to the ring and says the resumption of his career will come "quicker than people anticipate".
Having been linked with facing Joshua earlier in the year, defeat to Bellew is expected to curtail attempts to become world champion for a second time.
Logan, a retired fighter after 33 wins from 41 fights during a 15-year professional career, has a foot in both camps having known Haye since he was 15 years old while he works as head coach at BXR London – a boxing gym which Joshua has a stake in. He believes the bout could yet take place despite the varying trajectory of the pair's careers.
"I think David would have the fight in a heartbeat," he told IBTimes UK. "He truly believes he can beat Anthony. He feels there are weaknesses in Anthony's game that he can exploit. But on the same point I remember looking at Anthony's face at ring side when David lost his fight to Tony Bellew.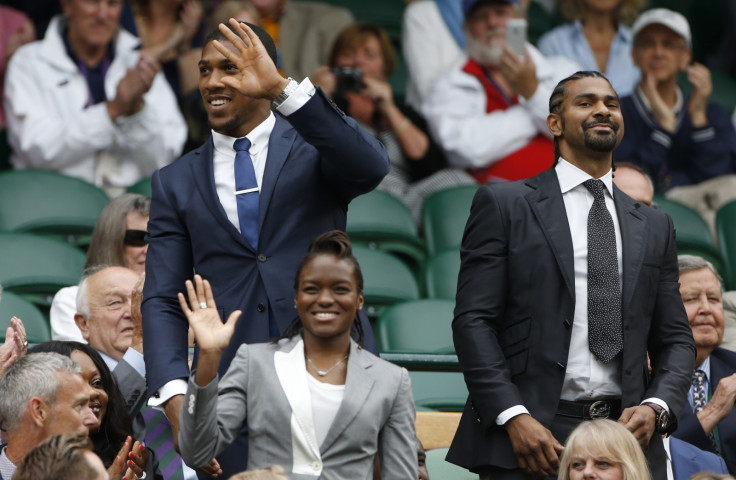 "And I can pretty much reassure that Anthony was thinking exactly the same thing. He sees chinks in David's armour that he can exploit. It would be a cracking fight because I think David would be along the lines of an explosive, dangerous Wladimir Klitschko for him to fight.
"It would definitely be about who landed first and then Anthony answered a lot of questions; Wladimir hit him flush on the chin and he survived it. Does Wladimir punch as hard as David Haye in a one-punch scenario? I don't know but it's a tough fight. I think it may happen should David come back. David's got to go through a lot of injury rehab and he truly believes that he's going to come back. But we shall see."
As Klitschko wonders a possible rematch against Joshua later this year – with Cardiff's Principality Stadium and the MGM Grand in Las Vegas touted as possible venues – the bookmakers have Haye as among the outsiders to face Joshua in his next fight after the stunning Wembley knock-out in April. The former WBA champion is 33/1 to be Joshua's next opponent. The mandatory challenger for the IBF title, Kubrat Pulev, and American Deontay Wilder are the favourites to take on the London 2012 Olympic champion.
–