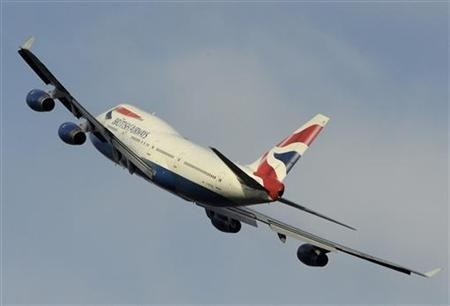 According to figures supplied by the Montreal-based Airports Council International, in 2011 London Heathrow Airport advanced one peg in the world passenger rankings to No 3 - beating Chicago O'Hare International - with a total throughput of over 69.4 million, an increase over the previous year of 5.4 per cent. Plane movements averaged 1,305 per day, affecting, if some critics of Britain's only true hub airport's expansion plans are to be believed, some two million people!
The top two rankings did not change, they being Atlanta Hartsfield serving over 92.3 million passengers, and Beijing Capital with 77.4 million. Both these airports have room for further expansion. Heathrow, under its present operations is running between 98 and 99 per cent capacity.
If the currently available figures for 2012 (Jan-May) continue, these three top placings are unlikely to change with Atlanta Hartsfield gaining a further 4.7 per cent and Beijing 4.9 per cent. Although Heathrow too has seen an increase in passenger traffic, it was just 2.4 per cent whilst European rivals - and the field is very competitive - Paris Charles de Gaulle (60.97 million in 2011), Frankfurt (56.44 million) and Amsterdam Schiphol (49.75 million) saw rises of 3.0 per cent, 2.9 per cent and 4.1 per cent respectively and which would suggest that London Heathrow is losing ground.
Heathrow has been the world's busiest international airport since 2000 and retained the 2011 top spot handling 64.7 million international passengers, an increase of 6.2 per cent over 2010, exceeding its overall growth rate for the year. Paris CGD came second with 55.67 million, a 4.8 per cent increase. Amsterdam was fifth with 49.68 million and a large 10.1 per cent rise; and Frankfurt was sixth, handling 49.48 million, a gain of 6.9 per cent from the year previous.
All the above mentioned airports are international hub airports as well. These hubs compete to offer the widest choice of international and intercontinental destinations and the best frequency at the most convenient times to the largest number of smaller feeder airports' passengers as possible, thus pairing airports which by themselves would not have the traffic to do so. London Gatwick is a big international airport which handled 33.67 million passengers in 2011 yet it isn't a true hub but a point-to-point airport.
In competing with other near-European international airports to attract hub traffic, Heathrow has increased its international destination network. Bangalore and Guangzhou are now served directly to name but two destinations recently added. Yet it is restrained to serve several large and important centres which its owners would like to, especially in those countries experiencing rapid growth, because it is running so close to full capacity and no landing slots are available. In freeing up the landing slots it already has, so as to serve these new international destinations, Heathrow sacrificed domestic destinations and/or frequency.
The Economist in a Special Report on London in the 30 June 2012 issue reported:
"...Five years ago there were 124 flights a week from Edinburgh to Heathrow, 115 from Glasgow and 54 from Belfast...now there are 109, 60 and 42."
Inverness, a prosperous and expanding small city of 59,000 some 550 miles north of London has an airport which handled 582,000 passengers in 2011, an increase of nearly 10 per cent on 2010. There is no longer any service to Heathrow, but to London Gatwick and London Luton instead. These first and second most popular routes from Inverness, share 323.000 passengers between them. Bristol, Birmingham, Manchester and Amsterdam are also served from Inverness and each of these offer onward international destinations.
KLM advertises one-stop flights from Scotland (transfer at Amsterdam) to Beijing, Shanghai, Xiamen and Chengdu so taking them up on the offer not only bypasses London but Britain! Another problem, not great for business if one wants to remain loyal to London/Heathrow is to read "Change of Airport" for the return portion of the flight. This is more common since "Five years ago" as many domestic services have been transferred to London Gatwick or more likely, London City - just about the last thing one wants after a 10-12 hour intercontinental flight, never mind the transfer costs.
Heathrow needs a fix and preferably in a lot less than the fifty years which have elapsed since its capacity problem became a matter for discussion by the government. No surprise, the real problem has always been political with the Heathrow can ever kicked down the road, noise levels giving rise to the most objections.
One solution that would give relief for, maybe the next five years, would be to allow the Airport to use its two runways "mixed mode" ie for departures and landings instead of having each runway dedicated to one or the other. A short trial started on 01 July this year, ostensibly to reduce stacking in south-east England but to also see if the system will work and succeed in producing the potential 15 per cent additional capacity. The Independent quoted Heathrow's owner, BAA:
"Few residents interviewed knew about the trial or noticed its impacts."
Which would suggest that in any large city noise is a constant and the issue much exaggerated. But the real hot potato for the (Conservative) politicians is the matter of building a third runway at Heathrow. It's nothing new.
On 22 November 2007, the then Transport Secretary, Ruth Kelly, announced proposals for a 2,200m third runway which the Labour Government's analysts said would still meet air and noise pollution targets by 2020.
Ms Kelly told the media:
"Heathrow supports 170,000 jobs, billions of pounds of British exports and is our main gateway to the global economy.
"But for too long it has operated at nearly full capacity, with relatively minor problems causing severe delays to passengers.
"If nothing changes, Heathrow's status as a world-class airport will be gradually eroded - jobs will be lost and the economy suffer."
Nothing since 2007 has fundamentally changed to alter Ms Kelly's analysis and Labour's plans but, awkwardly, both Coalition partners included in their 2010 General Election manifestos, a pledge not to build a third runway at Heathrow. This hardly squares with the Coalition Government's - and particularly the Cabinet's stance that "Britain is open for business".
London's Mayor, Boris Johnson thinks that the Prime Minister would really like to renege on this commitment and when Justine Greening, MP for Putney which lies under a Heathrow flight path and a staunch third runway opponent, was replaced as Transport Secretary by Patrick McLoughlin on 05 September, Mr Johnson demanded an immediate commitment from the Government that no third runway would ever be built. This was not forthcoming and the Government set up instead a Commission into Airport Expansion Plans - not that anything will happen before the next General Election.
When people are asked their opinion on Heathrow the most often heard complaint is "the noise" even when the interviewer's microphone can barely pick up what the person is saying above the noise of the traffic passing by. Given that one doesn't live in London, or any city, and expect peace and tranquility, the question must be asked how valid is such a complaint?
An article in The Telegraph by Tom Peterkin on 16 May 2008, highlighted the possible damage that could be caused by persistent exposure to noise, giving as an indication that 75 decibels would be typical of a very busy street. The article went on to mention that the Government had conducted numerous studies and the Department of the Environment had compiled maps showing "isolines", noise levels shown like the height contours on a road map, for various parts of the country, including Heathrow. The highest levels I could find registered 75 decibels (off runway and in flight). A very busy street.
Yes, if a third runway is built to the north of the No1 Terminal Building then there will be a further noise pattern registering 75 decibels and noise dampening measures will be required. But a £100 billion airport in the Thames Estuary? Not that the people of Kent have been consulted, but it's not really in the right location
Maybe Boris would like to go over to Hillingdon and tell the 75,000 or so workers at Heathrow why they will be out of a job. His vision would entail its closure.