Heavyweight champion Tyson Fury strongly denies claims he is under investigation for steroid use
Sunday Mirror alleged the heavyweight tested positive for the substance last year.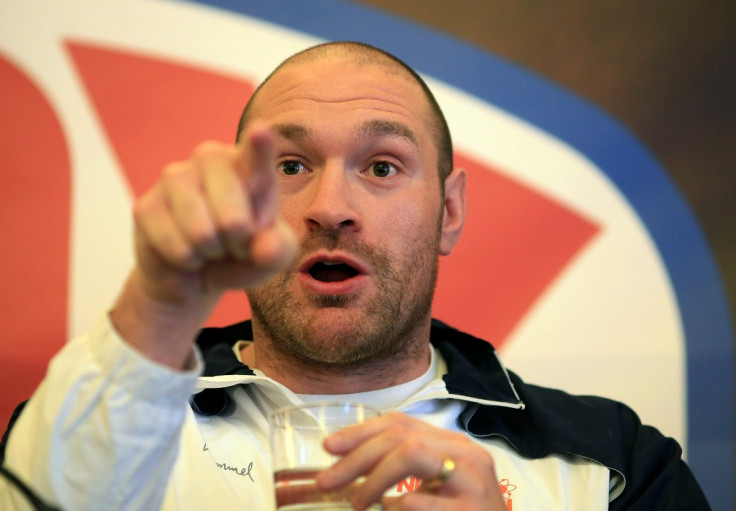 Tyson Fury and his promoter Hennessey Sport have vehemently denied "baffling" allegations of doping. The Sunday Mirror alleged on 26 June traces of banned anabolic steroid nandrolone were found in a sample collected from the fighter before he beat Wladimir Klitschko to win his world titles last year.
The report claimed "unacceptable levels" of the substance were found in his blood in the build-up to last November's fight, and claimed the 27-year-old heavyweight is being investigated by UK Anti-Doping.
But a statement from Hennessey and Team Fury read: "We are baffled by today's story in the Sunday Mirror. Tyson Fury absolutely denies any allegation of doping. He looks forward to recovering from in injury and defending his title against Wladimir Klitschko in October.
Fury was scheduled to defend his IBF, WBO and IBO world titles against Klitschko in a rematch on 9 July at the Manchester Arena but announced on Friday an ankle injury has forced the fight to be postponed.
"Hey guys, I've got a little bit of bad news for you all," Fury said on Instagram. "About 10 days ago, I was running up in the Lake District and I went over and sprained my ankle. I've been to the hospital and had X-rays, MRI scans and all that stuff. They've said it's not broken but it's badly sprained and to keep off it for six/seven weeks.
"I had a second opinion a week later and I've had the same advice. So the fight will be being postponed. Sorry to all my fans, to let you all down, but injuries do happen and it's one of those things.
"My apologies to everybody who's booked dates, but the fight will be on as soon as possible. That's all I know at this moment, but the fight is still going ahead. As soon as the ankle gets better, we will reschedule. Thank you all and God bless."
© Copyright IBTimes 2023. All rights reserved.