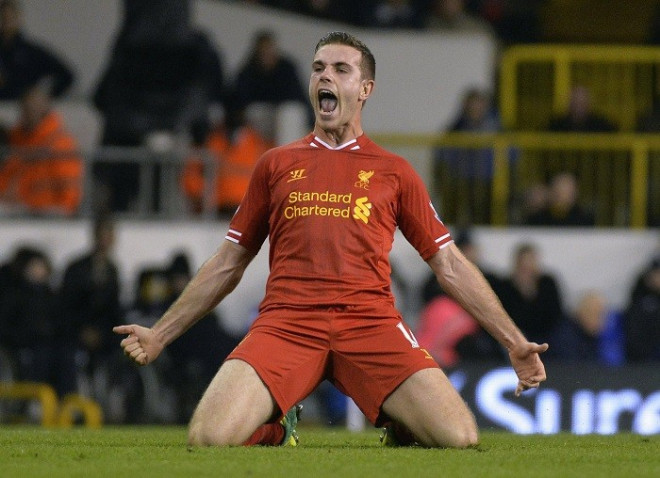 Liverpool midfielder Jordan Henderson has heaped praise on manager Brendan Rodgers for helping him improvise tactically as well as physically.
The former Sunderland player has been a vital part of the Merseyside club's top four surge this campaign with his energetic displays all over the field.
The England international has been an everpresent name in the Reds' squad, starting in all the 30 Premier League matches, scoring three goals and contributing six assists in the process.
Henderson reckons that he had the energy and ability to perform at the highest level but earlier lacked proepr judgement and the Northern Irishman has helped him shape it since the beginning of last campaign.
"I think I've improved tactically and it's really helped channel my energy into the right direction. It's about using that in the right way. I feel as though in the past maybe I haven't used it how I should have, but the manager has helped me do that," Henderson told Liverpool's official website.
"I've always been pretty fit and wanting to close and chase down, but I think you've got to pick your moments and the time to do that. The manager has really helped me to channel that and focus on certain things. It's really helped.
"It's no good just running all over the shop and being out of position, which maybe a few years ago, when I look back, I was probably doing that. That's just enthusiasm, energy and wanting to do the right things," the 23-year-old added.
Liverpool are currently third in the league table with 65 points, separated by just four points from leaders Chelsea, who have played 31 matches so far. Rodgers' side overcame Cardiff City 3-6 in Wales in their previous league fixture.
Henderson also reserved praise for Daniel Sturridge and Luis Suarez who set each other up for one goal each while the Uruguayan international netted his hat trick during the victory.
"They know where each other is. They're both scoring goals all the time and working really well together - but they also do the dirty part and press and work off the ball, which is the most important thing for the team. If they carry on doing that, I'm sure they'll keep scoring for many years to come," Henderson concluded.