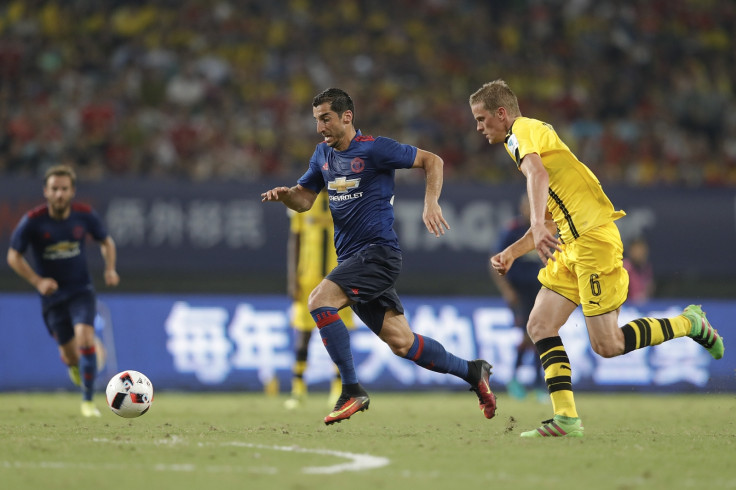 New Manchester United midfielder Henrikh Mkhitaryan is excited by the prospect of playing alongside Zlatan Ibrahimovic at Old Trafford. Both players made the switch to the Premier League over the summer, and the Armenian is eager to line up alongside the record-breaking striker.
Mkhitaryan, 27, expects Ibrahimovic to make his job easier on the pitch, as he is such a skillful and experienced footballer. "He's an amazing player," Mkhitaryan said of his new teammate, who was recently handed the number nine jersey with the Red Devils.
"The name says everything for himself, the words are just, like, no matter. No comment. I think for me it will be easy to play with him because he is a high-quality player, he knows how to keep the ball, how to play with it and how to create space for the others so I'm waiting to work with him."
Asked if he expects United's new centre-forward to make his life easier, Mkhitaryan replied, according to the Manchester Evening News: "Not only my life, but the team's life!"
Mkhitaryan joined United from Borussia Dortmund earlier this month, but does not think his high-profile switch will make him a certainty in Jose Mourinho's new-look side. "It doesn't matter if they buy me for, I don't know, £38m or £40m, I am not guaranteed to play the games," Mkhitaryan said.
The new United star added: "I am trying to do my best during the training to earn this place to play and then we will see. Because I don't think I will play every game, depending on the tactical situation, depending on the opponent, but I will do everything to try and help the team.
"After my football career I want to sit down and think I did something good, I won this title, I won this title, because that's the history and if you retire after your football career, the people will talk about your titles and that is the most important thing in football."