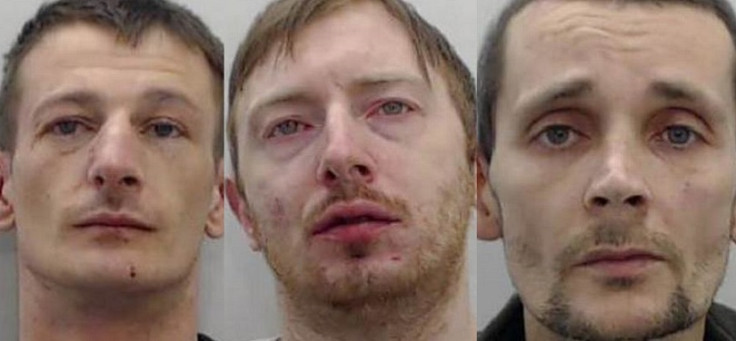 A 12-year-old girl who had a machete placed to her throat during a burglary has been praised after her actions helped jail the armed gang for more than 40 years. Dante Healey managed to escape from one of the robbers who held a blade to throat during the terrifying ordeal at her home in Harpurhey, Manchester, in the early hours of 2 January.
Three men had forced their way into the home with the intention of stealing takings from her mother's pub, The Valley, in Collyhurst.
Dante had been upstairs on her phone when she heard the men break their way in and dialled 999 after hearing her mother scream.
Once inside, one of the robbers – 32-year-old Michael Cannan – took a blade to the girl's throat while wearing a Halloween skull mask as a disguise.
Dante managed to put her hand out to protect herself, cutting her wrist in the process, and slip away from Cannan's grasp before running downstairs to let in armed police, who were waiting outside the house, to arrest the culprits.
Lisa Booth, Dante's mother and the landlady of The Valley pub, told the Manchester Evening News: "The men forced us back in the bedroom, telling us to lie on the bed. I didn't, because I didn't know if they'd come to rape me. Dante must have come out of her bedroom, because we came out onto the landing and Cannan had her on the stairs with the machete to her throat.
"It was sheer hell to see that happen to your daughter, who is innocent, it's something that will live with me forever.
"She put her hand out and I saw blood. I picked up a vase to hit him with. He tried to force us back into the bedroom, and Dante escaped down the stairs. She opened the door and armed police were just downstairs, and she let them in."
Family friend Robert Ashton and Booth's boyfriend Carl Malone were also in the house at the time of the robbery. Cannan threatened to "kill, cut and slice" Ashton, before threatening Booth and Malone with the machete.
Booth added: "There were three adults in the house at the time of the burglary and she saved us all from getting hurt... I'm so proud of Dante. Even the judge said it was all through Dante. It could have been a lot worse. It could have been a massacre."
Booth said she knew the gang from the local area and believed they targeted the home thinking there would be money there from the pub's New Years Eve takings the night before.
All three of the men pleaded guilty to aggravated burglary. Ringleader Cannan was given an extended sentence at Manchester Crown Court of 15 years, with a further five on license. His accomplices, Patrick Caffrey, 40, and Dean Richardson, 30, were jailed for 14 years and 13 years respectively.