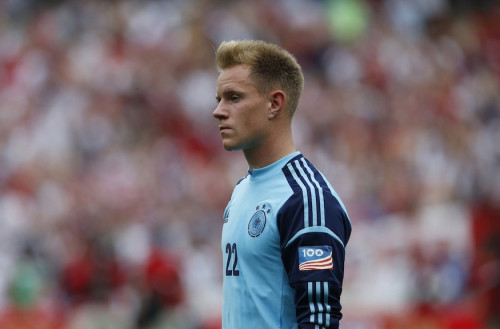 Former Bayern Munich boss Jupp Heinckes has encouraged Barcelona to sign Arsenal's goalkeeping target Marc-Andre Ter Stegen by claiming he had what it takes to replace Victor Valdes at the Nou Camp.
Arsenal have been heavily linked with the Borussia Monchengladbach keeper in recent months but reports in Spain claim the keeper has already agreed terms to become the new Barcelona number one, as Valdes's contract is set to expire at the end of the season and the Catalan has just confirmed that he will leave the team over summer.
At the same time, Ter Stegen has already told Gladbach that he will not extend his current deal and Spanish reports claim that the German side are willing to let him move to Barcelona for a fee close to £10m.
German boss, legend Heynckes has increased speculations about his potential move to the Nou Camp by claiming that the youngster is ready to make the move to Barcelona despite being just 21-years-old.
"Ter Stegen is ready to take Valdes's place at Barcelona. He needs the manager's support but he has character to get it. If I were Barcelona I would sign him inmedately," Heynckes said in an interview with Mundo Deportivo.
Recently Barcelona president Josep Bartomeu confirmed they were monitoring the German goalie.
"I can't say too much. It is true that he's [Ter Stegen] one of the keepers that we've followed, but we've also looked at others,"
The Catalans have also being linked with Liverpool's Pepe Reina, who is currently on loan at Napoli, but reports in Spain suggest their interest for the Spaniard has cooled off as Ter Stegen is now their first choice.
Arsenal boss Arsene Wenger is looking for a reliable back-up to Wojciech Szczesny and if Ter Stegen decides on a move to Barcelona as the reports claim then the Gunner may have to consider signing Iker Casillas or even Valdes.