Lebanon-based Shiite militant group Hezbollah is suspected of having opened a new front in the Israel-Gaza conflict as rockets fired from Lebanon have struck northern Israel.
Unconfirmed reports suggest the rockets were fired by Palestine-linked militant groups in Lebanon and not by the Islamist Hezbollah, which is widely perceived to be the long-arm of Iran.
Lebanon's Minister of State for Administrative Reform Nabil de Freij has also warned that strict action will be taken against any outfit that drags the country into battle for their own interests.
At least two rockets from southern Lebanon landed in northern Israel. In addition to that, the Lebanese army has defused two more rockets in Mari, the same location from where the earlier ones were thought to have been fired.
Lebanon's state-run National News Agency said the rockets were fired from the Hasbaya region after an initial attempt failed to take off from another region. The rockets did not cause any damage or casualties.
The Israeli Defence Forces (IDF) have alerted international observers from UN present in Lebanon over the attack. The remnants of the rockets were found near Kiryat Shemona, located in the region bordering Lebanon.
If it is confirmed that the rocket fire was launched by Hezbollah, it would be a serious escalation in the ongoing crisis. Hezbollah's involvement in the Syrian civil war in support of President Bashar al-Assad has already tilted the balance in favour of the Damascus regime in recent months.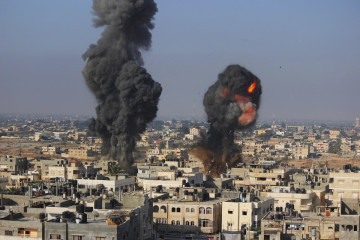 Meanwhile, the Israeli offensive on the Gaza Strip has already claimed the lives of at least 90 Palestinians in the four-day long attack. There are no reported casualties on the Israeli side so far.
Israeli fighter jets continue to bombard suspected militant targets in the region. The Palestinian side says most of the casualties are women and children. On Thursday (10 July) alone, Israel hit more than 100 targets.
Amid the worsening crisis, the US has offered to help broker a ceasefire between the sides, President Barack Obama has said.
Following a telephone conversation with Israeli Prime Minister Benjamin Netanyahu, the White House said Obama expressed concerns that the present fighting could intensify further and urged "all sides to do everything they can to protect the lives of civilians."