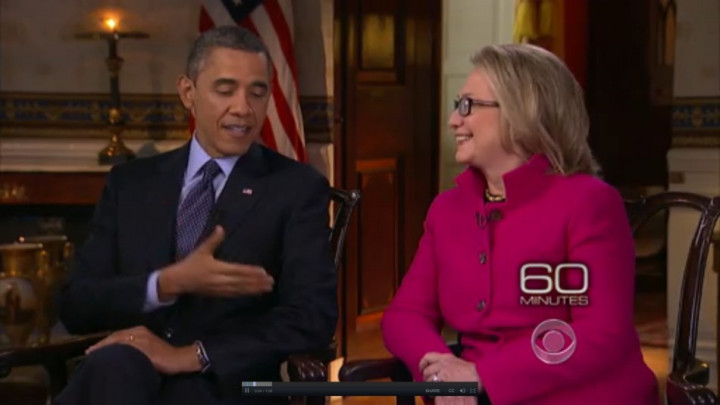 US President Barack Obama has appeared in a TV interview alongside outgoing Secretary of State Hillary Clinton, fuelling speculation in Washington that it marks an early endorsement by Obama of Clinton's anticipated bid to succeed him as president.
In a rare move, Obama appeared with Clinton in the White House Blue Room for an interview with the US network CBS's 60 Minutes programme. The interview comes as Clinton steps down as Secretary of State to make way for Massachusetts Senator John Kerry.
Obama uses the interview to thank his once-bitter rival for her services to the nation. The two fought a highly charged leadership race to secure the 2008 Democratic presidential endorsement.
As a smiling Clinton looks on, Obama tells CBS anchor Steve Kroft: "The main thing is I want to have the chance to say thank you.
"I think Hillary will go down as one of the finest Secretaries of State we've had. It has been a great collaboration over the last four years."
Clinton returned to work last week to testify before the Senate about the attack on the US Consulate in Benghazi last year, after taking time off to undergo treatment for a blood clot, stomach virus and concussion. Some commentators speculated that she may still be suffering from the effects of double vision, after the specialist prismatic lenses she wore attracted notice.
In the CBS interview, which will air at 7pm Eastern Standard Time (12midnight GMT), Obama added: "I'm going to miss her, and I wish she was sticking around. But she's logged so many miles I can't begrudge her wanting to take it easy a little bit.
"I want the country to appreciate the extraordinary role she's played during the course of my administration."
Clinton acknowledged that a joint appearance with Obama would have seemed "improbable" a few years ago, following what she termed "that very long, hard primary campaign".
She went on: "But, you know, I've gone around the world on behalf of the president and our country, and one of the things that I say to people, because I think it helps them understand, I say look, in politics and in democracy, sometimes you win elections and sometimes you lose elections.
"And I worked very hard but I lost. And then President Obama asked me to be secretary of state and I said yes.
"And why did he ask me and why did I say yes? Because we both love our country."
Commentators in Washington seized on the joint appearance as evidence of an early endorsement by Obama of a future presidential bid by Clinton.
Some analysts even termed it 'payback' for Bill Clinton's speech last September in which he swung behind Obama's re-election bid at the Democratic Convention in Charlotte, North Carolina. The CBS interview is Obama's only joint interview with Clinton, and is his first interview since his ceremonial inauguration. It is the only US interview Obama has given with anyone other than his wife, Michelle.
Clinton has long been rumoured to be considering running for the Democratic presidential nomination in 2016, although some reports have suggested her recent spell in hospital may have affected those plans.