Hillary Clinton's India Visit: Updates and Photos from Days One and Two
US Secretary of State, Hillary Clinton, arrived in Kolkata, the capital of the eastern Indian state of West Bengal, on Sunday, to begin the first leg of her three-day visit. The visit is expected to press Indian officials to reduce oil imports from Iran, an act the Secretary believes could help curb the nuclear arms threats from the Middle Eastern country and let India do its bit for the international community.
Although India has made some progress towards reducing its dependence on Iran for oil to fuel its rapidly growing economy by stepping up imports from Saudi Arabia, Clinton said the US expected India to explore more alternatives.
"(An) arms race in region is feared as Iran pursues its nuclear program. India understands the use of diplomacy to resolve this threat and is working to lower purchase of Iran oil. We hope they will do even more. We believe this is part of India's role in the international community," she said, according to a BBC report.
Clinton also met West Bengal Chief Minister Mamata Banerjee, in Kolkata, on Monday. However, despite earlier agreements to the contrary, NDTV reported the two did not discuss Foreign Direct Investment (FDI) in multi-brand retail trade in the state.
The Secretary did refer to Hafiz Saeed, the Islamist suspected of masterminding an attack by Pakistan-based gunmen on the Indian city of Mumbai in 2008, and said Pakistan had not taken the necessary action against him. She also visited a school in the city and an important local landmark - the Victoria Memorial - as well as attended an anti-human trafficking event.
Clinton then visited the Indian capital of New Delhi on Monday and her visit coincided with that of a large trade delegation from Iran. She will remain in the city on Tuesday, when she will meet with Indian government officials to review progress in strategic partnerships and look forward to the US-India Strategic Dialogue to be held in Washington DC on 13 June. The meet will be co-chaired by Secretary Clinton and the Indian Minister of External Affairs, S M Krishna, according to the US Department of State.
The US Secretary of State has been on a tour of key South Asian countries since 30 April, when she left Washington for China and Bangladesh, as well as India.
In China, the US Secretary of State attended the US-China Strategic and Economic Dialogue at Diaoyutai State Guesthouse in Beijing on 3 May. During her meeting with China's President Hu Jintao on Friday, she said relations between their two countries were the strongest they had ever been, Reuters reported.
Clinton was in the Bangladeshi capital of Dhaka on 5 May, to meet the country's Prime Minister, Sheikh Hasina, to highlight growing cooperation between Washington and Dhaka on political, economic and security matters ranging from counter-terrorism and UN peacekeeping to global health and food security.
Tuesday, 8 May marks the conclusion of the US Secretary of State's tour. Check out these photographs of her time in India...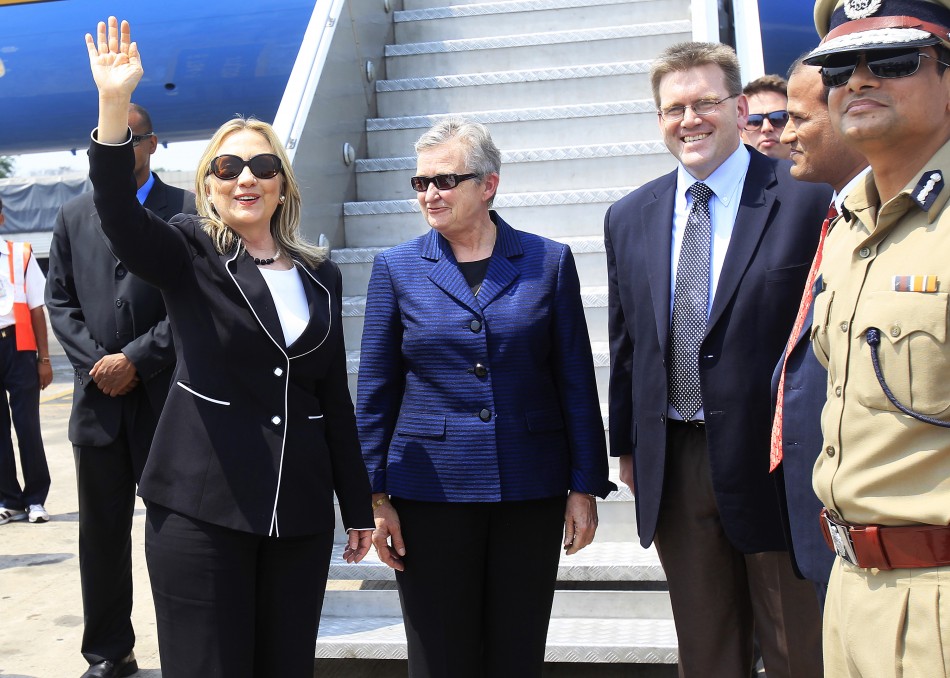 © Copyright IBTimes 2023. All rights reserved.