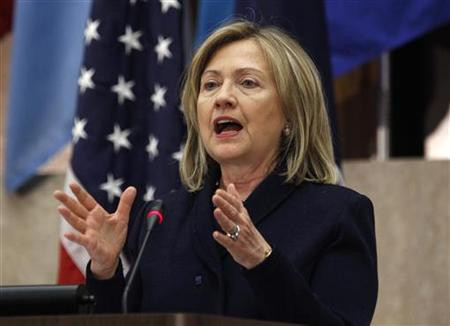 The situation in Libya will be the first item on U.S. Secretary of State Hillary Rodham Clinton's packed agenda during her latest around-the-world diplomatic tour, it appears.
Clinton departs Washington on Thursday and will head to Turkey, where she will attend a meeting in Istanbul of senior officials from the more than 40 nations supporting NATO's operation to protect Libyan civilians.
The meeting will be the fourth time foreign ministers from the so-called Contact Group on Libya regroup to review the situation and try to plan new strategies that will enable them to step up pressure on Libyan leader Muammar Gaddafi to leave power
It will also be an occasion for the ministers to reiterate their support for the cash-starved opposition Transitional National Council, and come up with new incentives to help the rebels break the stalemate.
Clinton has participated in two previous Contact Group meetings at which the countries represented, including the U.S., have moved to formalize ties with the council and provide it with financial and other assistance.
Despite not being directly involved in the Nato-led bombing campaign on Tripoli, the Obama administration has delivered humanitarian aid and has been working for weeks with Congress to free up some of more than $30 billion in frozen Gadhafi regime assets in U.S. banks to support the council.
However, much to the council's disappointment, Washington has not yet recognized the group as Libya's legitimate government.
The latest allegations of looting and persecution of civilians by the rebel fighters are only likely to make it more difficult for the U.S government to directly associate itself to the council.
Friday's Contact Group meeting comes as U.S., U.K. and French officials say pressure appears to be building against Gaddafi's regime which has reportedly been weakened and affected by dwindling fuel supplies, a cash crisis and reports of low morale among regime troops.
French Minister Alain Juppe hinted this week the departure of the leader could be imminent and insisted the Libyan government is holding talks with various countries to try and prepare the leader's exit.
However officials from Tripoli denied Juppe's claims and insist Gaddafi will not leave his country.
Clinton has steered clear of discussing intelligence reports from the ground or what she may be bringing to the table in Istanbul, but said Wednesday that she believed that Gaddafi's days in power "are numbered", a claim that has been incessantly repeated by officials from various country since the beginning of the conflict.
However, playing down the French reports, Clinton also said Gaddafi associates were sending mixed messages about whether he would be willing to step down.
"We are still getting contradictory signals from Col. Gadhafi's camp," she told reporters at a joint news conference with visiting Russian Foreign Minister Sergey Lavrov. "He has yet to meet the red lines that are set by the international community to cease violence against his people, withdraw his forces and step down from power.
"So although neither of us can predict to you the exact day or hour that Gadhafi will leave power, we do understand and agree that his days are numbered," Clinton said. "We will continue to work closely with our international partners, including Russia, to increase the pressure on him and his regime, and we will keep looking for a way to achieve a cease-fire, end the military action, give the Libyan people a chance to plot their own way forward."
After the focus on Libya at the Contact Group, Clinton will meet Saturday with Turkish officials for talks that are expected to concentrate on Middle East peace efforts, Turkey's strained relations with Israel, Iran and the brutal crackdown on pro-reform demonstrators in Syria are likely to be discussed.
The recent attacks on the U.S and French embassies in Damascus, which the U.S. said was staged by the Syrian government, angered the American government, with both Hillary Clinton and Barack Obama officially saying for the first time that Assad had now lost his legitimacy.
Clinton will also attend an event in Istanbul aimed at promoting religious tolerance with the head of the 57-nation Organization of the Islamic Conference, which represents Muslim interests.