One month ago, leading iOS hackers including Pod2g and MuscleNerd shed some light on the upcoming iOS 6 jailbreak at the Hack in the Box (HITB) conference in Kuala Lumpur, Malaysia. Surprisingly, the video uploaded earlier had some missing content regarding the Dream Team's progress.
In the earlier report, we saw excerpts of the Dream Team's discussion on various jailbreak topics. However, a new video has surfaced on the internet that depicts an hour-long session shedding some light on the progress made with the upcoming iOS 6 jailbreak.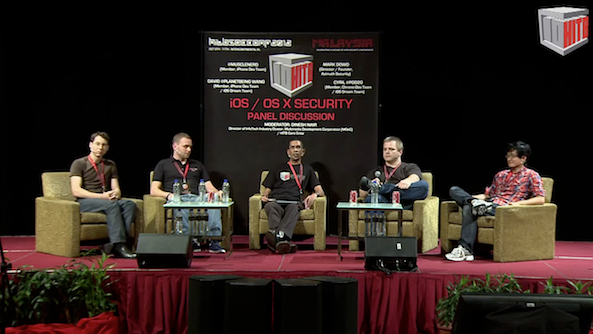 In the picture above, the key members of the jailbreak development community (from left to right) - Mark Dowd (aka mdowd), Pod2g, HITB's I33tdawg, MuscleNerd and planetbeing are seen. With the sole exception of I33tdawg, all the other members have been actively working on the iOS 6 jailbreak.
The entire video sheds light on what the pillars of the jailbreak development community, Pod2g, Mark Dowd and MucleNerd, have to say to their fans.
As iDownloadBlog notes, here are some excerpts of the more noteworthy points from the HITB panel discussion:
MucleNerd asserts that baseband hacking and software unlocks have become age-old tricks of the trade, as third-party vendors have been frivolously adding IMEI's to Apple's unlocked device database.
Mark Dowd - the leading iOS security expert - hints that Apple has practically overhauled all security holes in iOS 6, and thus making it considerably harder for the hackers to design kernel exploits, in contrast with previous versions of the software.
Meanwhile, Pod2g is reportedly investing more time and efforts on developing a successful iOS 6 jailbreak, despite being a bit busy with his day job. His latest work reportedly focuses on hunting for a user-land patch and unearthing new vulnerabilities to trigger the execution code.
While we keep our fingers crossed and eagerly await the highly anticipated release of untethered jailbreak for iOS 6, check out the intriguing HITB panel discussion video on iOS 6 jailbreak below: